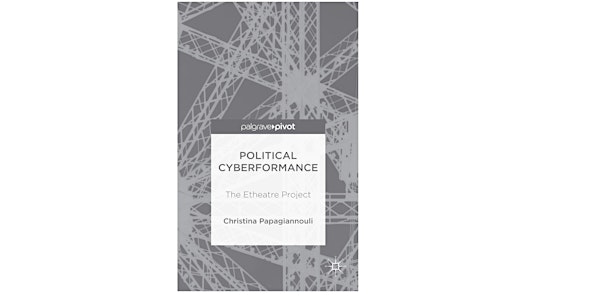 Book launch: Political Cyberformance. The Etheatre Project
Event Information
Location
ATRIUM, Boardroom (CA A419)
86-88 Adam Street
Cardiff
CF24 2FN
United Kingdom
Description
Political Cyberformance: The Etheatre Project, Christina Papagiannouli (2015, Palgrave Macmillan)
Guest Speaker: Helen Varley Jamieson
This book examines the use of Internet platforms as theatrical, rehearsal and performance spaces and explores the interactive and political potentials of online theatre, questioning the boundaries of these in-between spaces and the spatial experiences they engender. In particular, this book looks at forms of cyber-adaptation, cyber-ethnotheatre and cyber-collaboration as directing methodologies for producing dialectical forms of political cyberformances (in Brechtian terms), with reference respectively to the productions of Cyberian Chalk Circle (2011), Merry Crisis and a Happy New Fear (2002) and Etheatre Project and Collaborators (2014). Writing from a practice-based perspective, Papagiannouli offers a historical account of online theatre and a detailed analysis of a range of online works, including productions by the National Theatre Wales, NTLive, Dries Verhoeven, Forced Entertainment and Rimini Protokoll.
Dr Christina Papagiannouli is a research assistant and visiting lecturer at the University of South Wales. She holds a practice-based PhD in theatre and digital performance and an MA in theatre directing from the University of East London, a BA (Hons) in drama from Aristotle University of Thessaloniki and a diploma in drama from the University of Kent. Her practice-based PhD research focused on the political character of cyberformance. Papagiannouli has presented her work at a range of international events and conferences. Her monograph 'Political Cyberformance: The Etheatre Project' was published by Palgrave Macmillan in 2015

Helen Varley Jamieson is a writer, theatre practitioner and digital artist from New Zealand, based in Germany. She holds a Master of Arts (Research) from Queensland University of Technology, investigating cyberformance – live performance on the internet – which she has practiced since 1999. She is a founding member of the globally-dispersed cyberformance troupe Avatar Body Collision, a co-founder of UpStage, an open source web-based platform for cyberformance, and co-curator of online festivals involving artists and audiences internationally. She is also the "web queen" of the Magdalena Project, an international network of women in contemporary theatre.
For further details about The Etheatre Project see https://etheatreblog.wordpress.com/.
Date and time
Location
ATRIUM, Boardroom (CA A419)
86-88 Adam Street
Cardiff
CF24 2FN
United Kingdom