Book launch: Qualitative and Digital Research in Times of Crisis
The seminar will introduce the book, invite comments from Dr Donal O'Mathúna, Ohio State U., and engage a discussion about this project.
About this event
Qualitative and Digital Research in Times of Crisis: Methods, Reflexivity, and Ethics
Edited by Helen Kara & Su-ming Khoo
Crises such as the COVID-19 pandemic, disasters, or violent conflict present numerous challenges for researchers. Faced with disruption, obstacles, and even danger to their own lives, researchers in times of crisis must adapt or redesign existing research methods in order to continue their work effectively. Including contributions on qualitative and digital research from Europe, Asia, Africa, Australasia, and the Americas, this volume explores the creative and thoughtful ways in which researchers have adapted methods and rethought relationships in response to challenges arising from crises. Their collective reflections, strategies, and practices highlight the importance of responsive, ethical, and creative research design and the need to develop methods for fostering mutual, reflexive, and healthy relationships in times of crisis.
Helen Kara has been an independent researcher since 1999 and specialises in creative research methods and ethics.
Su-ming Khoo is Senior Lecturer in Political Science and Sociology at the National University of Ireland, Galway.
Bristol University Press: ISBN 9 781447 363804
"In a rapidly changing research environment, this is a needed and thought-provoking research methods book. For those undertaking research during times of crisis, this book provides guidance and prompts reflection."
Sarita Robinson, University of Central Lancashire
"This volume is a welcome resource for researchers working in crises. I particularly liked how ethics was infused throughout the whole book, exemplifying how ethical decision-making happens throughout the research process, especially during crises."
Dónal O'Mathúna, Ohio State University
Link to the book on the publisher's website: https://policy.bristoluniversitypress.co.uk/qualitative-and-digital-research-in-times-of-crisis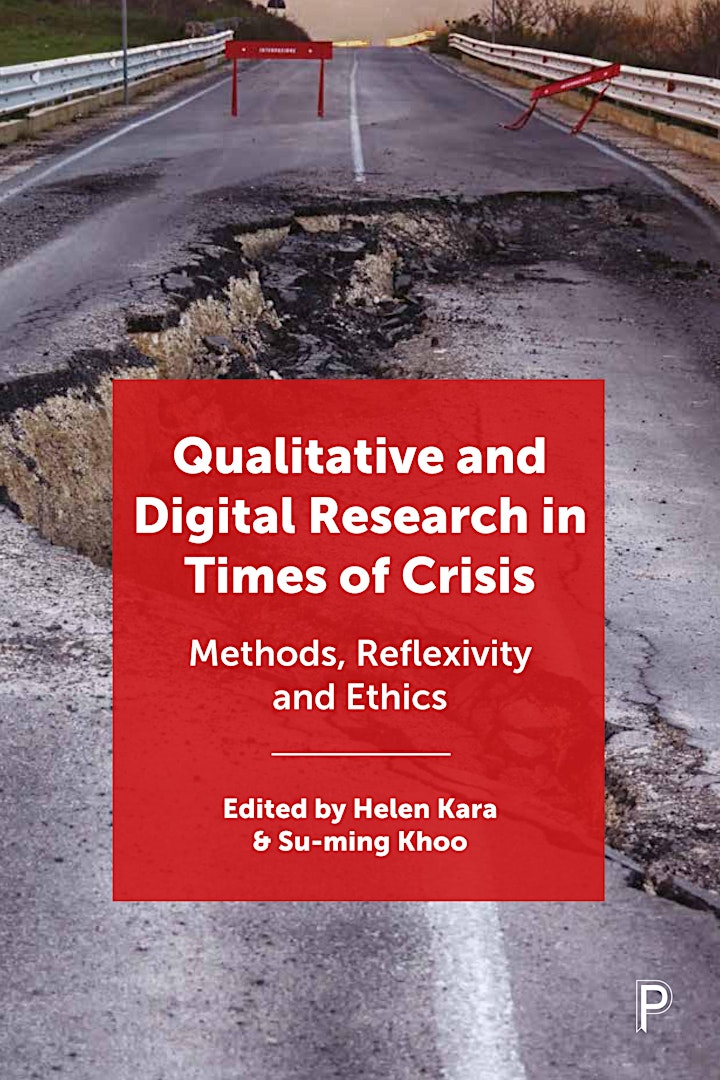 Organiser of Book launch: Qualitative and Digital Research in Times of Crisis