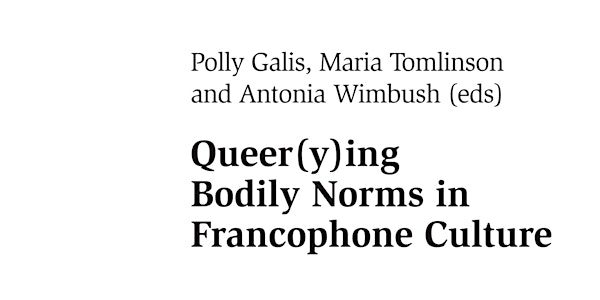 Book Launch - Queer(y)ing Bodily Norms in Francophone Culture
You are warmly invited to join us and celebrate the publication of Queer(y)ing Bodily Norms in Francophone Culture (Peter Lang, 2021).
About this event
Queer(y)ing Bodily Norms in Francophone Culture is an edited volume that questions how a wide selection of restrictive norms come to bear on the body, through a close analysis of a range of texts, media and genres originating from across the francophone world and spanning the twentieth and twenty-first centuries. Each essay troubles hegemonic, monolithic perceptions and portrayals of racial, class, gendered, sexual and/or national identity, rethinking bodily norms as portrayed in literature, film, theatre and digital media specifically from a queer and querying perspective. The volume thus takes «queer(y)ing» as its guiding methodology, an approach to culture and society which examines, questions and challenges normativity in all of its guises. The term «queer(y)ing» retains the celebratory tone of the term «queer» but avoids appropriating the identity of the LGBTQ+ community, a group which remains marginalized to this day. The publication reveals that evaluating the bodily norms depicted in francophone culture through a queer and querying lens allows us to fragment often oppressive and restrictive norms, and ultimately transform them.
The launch will feature talks by the book's editors, invited speakers Prof. Lisa Downing and Dr Elliot Evans, and a selection of our contributors.
We will send out a Zoom link to Eventbrite registered participants nearer the time of the event.
The book will be published very soon, so do keep a look out on Peter Lang's website.
Attendees are eligible for a 30% discount when purchasing the book.
We look forward to seeing you at the event and hope that you will consider ordering the book for your university's library. In the meantime, please do not hesitate to send us any queries at imaginingthebody@gmail.com
Best wishes
Dr Polly Galis, Dr Maria Tomlinson and Dr Antonia Wimbush (editors)