Sales Have Ended
Registrations are closed
Brilliant Let's Party Brenda
Sales Have Ended
Registrations are closed
Brilliant Let's Party Brenda
Celebrate with BBP Team and Brenda Dempsey, MD of Book Brilliance Publishing, who brought together 45 contributors raising funds for NHS
About this event
Join me (Brenda Dempsey) and the Team as we complete our first year in business, on this wonderful occasion of our very first Book Launch. A powerful and inspiring book designed, created and published by Book Brilliance Publishing as we enter our second year of business.
The Give Back Book – Resilient Voices
"What a joy to read the real-life inspirational stories of resilience, positivity and hope, transforming the trauma of a pandemic into a force for positive change.
By seizing this opportunity for reflection, revaluation, realisation, rebirth, refresh and to re-prioritise, the achievements of the authors within this book are living proof of being the change we wish to see!"
Heather Prince – Holistic Life Coach
Resilient Voices is filled with people of influence who choose to freely share their 2020 stories of Resiliency, Positivity and Hope for the greater good of our communities and the future.
A Give Back book is the term used to describe a book fuelled with heart and soul that can be shared and lived in the moment and future. All monies received from the sale of the book will go to support the NHS UK. Book Brilliance Publishing will sponsor all costs of publishing it.
Hear from the contributers throughout the evening share why they decided to join this great book and share their story.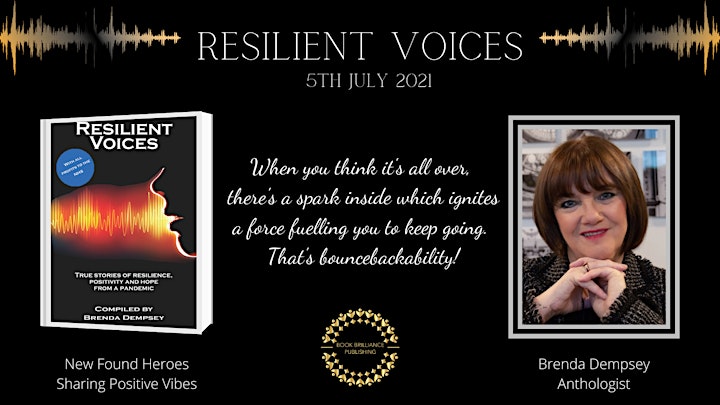 Organiser of BOOK LAUNCH - RESILIENT VOICES - BRENDA DEMPSEY
 Brenda Dempsey (Domestic Abuse survivor, Catalyst and Problem Solver) is a Master  & NLP Coach, Teacher, Mentor, Speaker and #1 International Best Selling Author.  She is already published in the Anthology Book of Inspiration for Women by Women created by Australian Ruth Stuttgen and Conceived to Lead, Dismantling the Glass Ceiling Mindset created by American author Carla Wynn Hall.  Coming soon her own work A-Z of Diamond Success.  She has found a love of writing and uses this to assist other women in raising their voices with their own stories.  She is the creator of Pivotal Moments 101 – An Anthological Trilogy full of transformational stories of Strength, Courage and Change Inspiring Hope in others written by women from around the globe.
Brenda believes that women can find their voice through writing and speaking about their stories with a catalytic reaction of increasing their confidence, belief and courage to step into the spotlight and share their stories with other women illustrating their conviction to make a difference in the world today.  She is passionate about conscious living and the conscious collective of raising the energy of the planet.
Through the book and work of Pivotal Moments 101, Brenda can realise her dream of bringing together women from around the globe, impacting change in their lives and creating the ripple effect that touches thousands more women's lives.
As the I CAN Coach, Brenda successfully empowers, inspires and transforms women so they too can be free to live their life on their terms, as their greatest version and achieve their big audacious dreams.  She works with Coaches and Entrepreneurs to expand the Being and Business Brilliance from the realms of ordinary and encourages them to step into their extraordinary version of the 1% Club unleashing their Inner Diamond in the process.    Her vision is to create more leaders through the education and Diamond ripple effect of Holistic Leadership.
Brenda has founded a charity for homeless women, called Helping Handbags Worldwide,  focusing on their sanitary and hygiene needs.  She is a mother of 4 smart kids and Grandmother to 7 beautiful grandchildren.  Brenda loves to spend time with family &friends, and loves to travel, with David her guardian angel, around the world leaving her mark on the lives of those she touches. She is a Scot who now lives in Surrey, UK. 
Brenda would like to use this occasion to further her work with Helping Handbags Worldwide and invite guests to donate a sanitary and hygiene filled handbag to be distributed to homeless women in London.  Donations of sanitary or hygiene products will also be greatly received.
Thank you
Be Brilliant & Sparkle