Description
On Friday 19th January at 6.30pm, join Julian Sedgwick at Heffers as he celebrates the publication of Return to the City of Ghosts - the thrilling conclusion to the Ghosts of Shanghai by the award-winning author of the Mysterium trilogy.

Ruby is on a mission to rescue the boy she loves: Charlie has been swept away in the powerful waters of the River Yangtze. But the world she loves is now broken by danger and fear, and Ruby is lost and surrounded by ghosts. Can Ruby trust herself, and those around her, to find Charlie and return to Shanghai? Or has she ventured too deep into the realm of spirits? On an amazing journey down the Yangtze, crossing from one world to the other, Ruby must follow the 'red thread of destiny' to find Charlie and home, before she loses herself...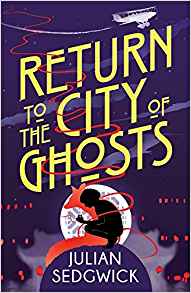 The launch is free to attend but booking is essential to be guaranteed entry; please reserve a place through this page, by calling 01223 463200 or in person at Heffers bookshop.