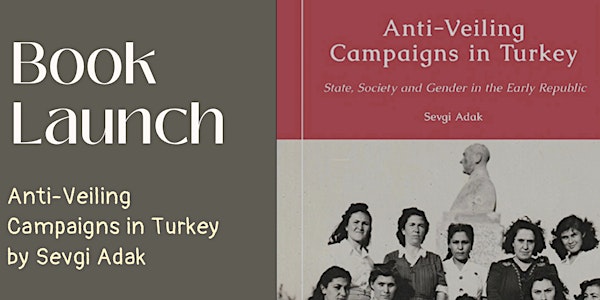 Book Launch: Sevgi Adak, Anti-Veiling Campaigns in Turkey
Launch of Sevgi Adak's book "Anti-Veiling Campaigns in Turkey: State, Society and Gender in the Early Republic"
About this event
This seminar will launch Sevgi Adak's book, Anti-Veiling Campaigns in Turkey: State, Society and Gender in the Early Republic published by I.B. Tauris and Bloomsbury.
Speaker:
Dr Sevgi Adak, Associate Professor, Aga Khan University, Institute for the Study of Muslim Civilisations
Discussants:
Dr Nazanin Shahrokni, Assistant Professor of Gender and Globalisation, LSE
Dr Gavin Brockett, Associate Professor and Vice-Dean of Arts, Wilfrid Laurier University
Chair:
Prof Yaprak Gürsoy, European Institute, LSE
----------
Sevgi Adak's new book adopts a historical approach to examining the context and formation of the meanings of veiling and unveiling during interwar Turkey. In this book, Adak reveals how the interwar period marks a moment that the way women's dress turned into an issue of national mobilisation. She uncovers the complexities of the Kemalist modernisation project by presenting unpublished archival data and investigating how women responded to anti-veiling campaigns.
According to Bloomsbury Publishing the book: "shifts the focus from the high politics of the elite to the implementation of state policies" and "situates the anti-veiling campaigns as a space where the Kemalist reforms were negotiated, compromised and resisted by societal actors".