Description
Join science journalist and broadcaster Kit Chapman to celebrate the launch of his debut book, Superheavy.

In a globe-trotting adventure that stretches from the United States to Russia, Sweden to Australia, Superheavy is your guide to the amazing science filling in the missing pieces of the periodic table. By the end you'll not only marvel at how nuclear science has changed our lives – you'll wonder where it's going to take us in the future.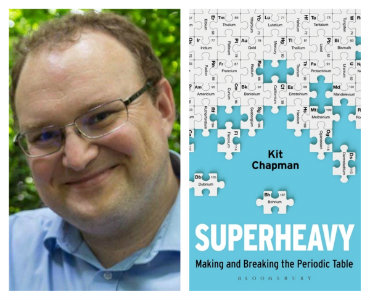 Kit Chapman is an award-winning science journalist and broadcaster. He is comment editor for Chemistry World, the official magazine for the Royal Society of Chemistry. He writes for the Daily Telegraph, the Sunday Telegraph, and has appeared as an expert for the BBC and Sky News.
The launch is free to attend but booking is essential as spaces are limited. Tickets can be booked through this page, by calling 01223 463200 or in person at Heffers bookshop. Please note this is an informal, celebratory event, not a seated talk; a limited number of chairs will be available.
Like this? See a full list of our forthcoming events by clicking here.