Book launch: "The Corruption of Capitalism" by Guy Standing
Description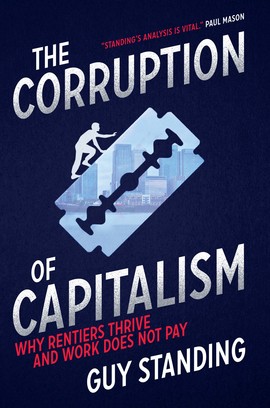 You are cordially invited to the launch of Guy Standing's new book, The Corruption of Capitalism: Why Rentiers Thrive and Work Does Not Pay (Biteback, 2016). The book presentation will be followed by a drinks reception.
There is a lie at the heart of global capitalism. While claiming to promote free markets, governments and international agencies have constructed the most unfree market system ever, fostering a plutocracy alongside a growing precariat mired in insecurity. This book shows how rentier capitalism, which Keynes predicted would die, is causing growing inequality. The income distribution system has broken down. A new one is needed, anchored on basic income (social dividends) and democratic wealth funds.
"As we move into an age where work and leisure become blurred, and work dissociated from incomes, Standing's analysis is vital." Paul Mason
"Guy Standing's incisive critique ... should put politicians and ruling elites on the alert." John McDonnell, Shadow Chancellor of the Exchequer
"Guy Standing focuses on the central problem of modern capitalism - the tendency of great wealth to transform itself into political power." Robert Reich, Labor Secretary to President Bill Clinton, 1993-97
Guy Standing is Professorial Research Associate at SOAS and honorary co-president of the Basic Income Earth Network (BIEN), an international NGO that promotes basic income. Earlier books include The Precariat: The New Dangerous Class (2011) and A Precariat Charter (2014), which have been translated into 18 languages. A book co-authored with SEWA colleagues, Basic Income: A Transformative Policy for India (2015), was based on pilot basic income schemes conducted in India.