An online event to launch The Lockdown Chronicles. A Comic Strip Quarantine by Ernesto Priego. Panel discussion and a virtual toast!
About this event
You are invited to an online panel discussion to launch The Lockdown Chronicles. A Comic Strip Quarantine , by Ernesto Priego.
Panelists
Professor Martin Paul Eve, Birkbeck, University of London
Professor Anna Feigenbaum, Bournemouth University
Dr Paddy Johnston, Good Comics
Francisco de la Mora, Symbola Comics
Dr Natalia Pérez, University of Southern California
and Dr Ernesto Priego, City, University of London
Published originally online during the early days of the pandemic, The Lockdown Chronicles is series of comic strips Ernesto made made reusing freely-available, openly-licensed or public domain items from news sources, digital collections and open data resources. The series documents and comments on the Covid-19 Pandemic from a UK perspective.
This edition brings together the first 40 strips in print for the first time.
"This book brings together the first series of The Lockdown Chronicles, providing a real-life documentation of artmaking from inside the end times. If we were wise, we might pay attention to Priego's messages; to listen to the voices from inside these graphic forms."
-Martin Paul Eve, Birkbeck, University of London, from the preface
Read this interview about Ernesto's work and process on this book, as well as getting insight into creating art during difficult times and using art as social commentary.
About the author
Ernesto Priego has been actively promoting the study and practice of comics since the early 1990s. He has a keen interest in open access to information and the importance of documentation, design, participation, reuse, and the preservation of memory. He leads the Parables of Care: Responses to Dementia Care project, co-designing, with Simon Grennan and Peter Wilkins, comic books on the experience of dementia care (2017-2020). Comics have also influenced his poetic practice; he is the author of Not Even Dogs. Hay(na)ku Poems (2006); the amazing adventures of Gravity & Grace (2008); The Present Day. The Mañana Poems (2010), and The Strip Hay(na)ku Project. A Collaborative Experiment in Sequential Graphic Poetics (2019). He has also collaborated with comics artist Francisco de la Mora in co-designing comics on access to information, Covid, and disability. He co-founded and co-edits The Comics Grid: Journal of Comics Scholarship.
This online event is free but requires registration.
The comic is distributed by Good Comics. Contact goodcomics@hotmail.com to purchase copies or for press enquiries.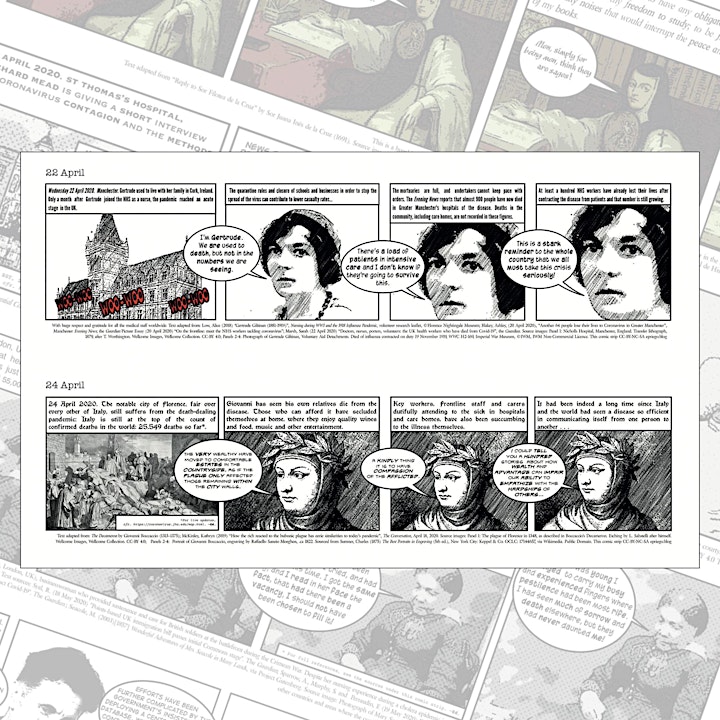 Organiser of Book Launch: The Lockdown Chronicles: A Comic Strip Quarantine