Description
On 22nd February at 6.30pm, join Jim Kelly at Heffers for a party to celebrate the launch of his new novel, The Mathematical Bridge - the second book in the Nighthawk series.

Cambridge, 1940. It is the first winter of the war, and snow is falling. When an evacuee drowns in the river, his body swept away, Detective Inspector Eden Brooke sets out to investigate what seems to be a deliberate attack.
The following night, a local electronics factory is attacked, and an Irish republican slogan is left at the scene. The IRA are campaigning to win freedom for Ulster, but why has Cambridge been chosen as a target? And when Brooke learns that the drowned boy was part of the close-knit local Irish Catholic community, he begins to question whether there may be a connection between the boy's death and the attack at the factory. As more riddles come to light, can Brooke solve the mystery before a second attack claims a famous victim?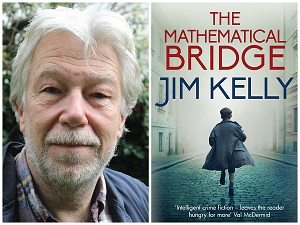 The launch is free to attend but booking is required as places are limited. Tickets can be booked through this page, by calling 01223 463200 or in person at Heffers bookshop. Please note this is an informal, celebratory event, not a full author talk. A limited number of chairs will be available.
Like this? See a full list of our forthcoming events by clicking here.