Description
At 6.30pm on 21st June, join author P. R. Brown at Heffers as he celebrates the publication of his first novel, The Mirror Men.
Britain has evolved into a police state in which the freedoms of the past have disappeared. Percy, Henry and Frank are caught in a context of burgeoning dehumanisation. Integrity and humanity have been sacrificed to political correctness and the obsession with so-called "social cohesion"; Christianity is met with universal indifference, at best, and, at worst, hostility. Henry's death is deeply felt but when Percy falls victim to the inhuman and fanatical system that now prevails, his own demise awakens in Frank, now bereft of his two companions, a keen sense of the significance of his loss. Is there any desire left in the world to rekindle the light that seems to have been irretrievably lost in the darkness of the times?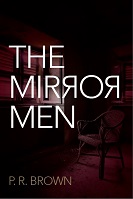 The launch is free to attend but booking is essential to be guaranteed entry; please reserve a place through this page, by calling 01223 463200 or in person at Heffers bookshop. Please note this is an informal standing event, not a seated talk; a limited number of chairs will be available.