BOOK LAUNCH: THE MUSLIM HERITAGE OF BENGAL

Saturday, 1 June 2013 from 18:00 to 21:00 (BST)
Event Details
A timely publication in light of the current events in Bangladesh,
we are pleased to organise the following book launch: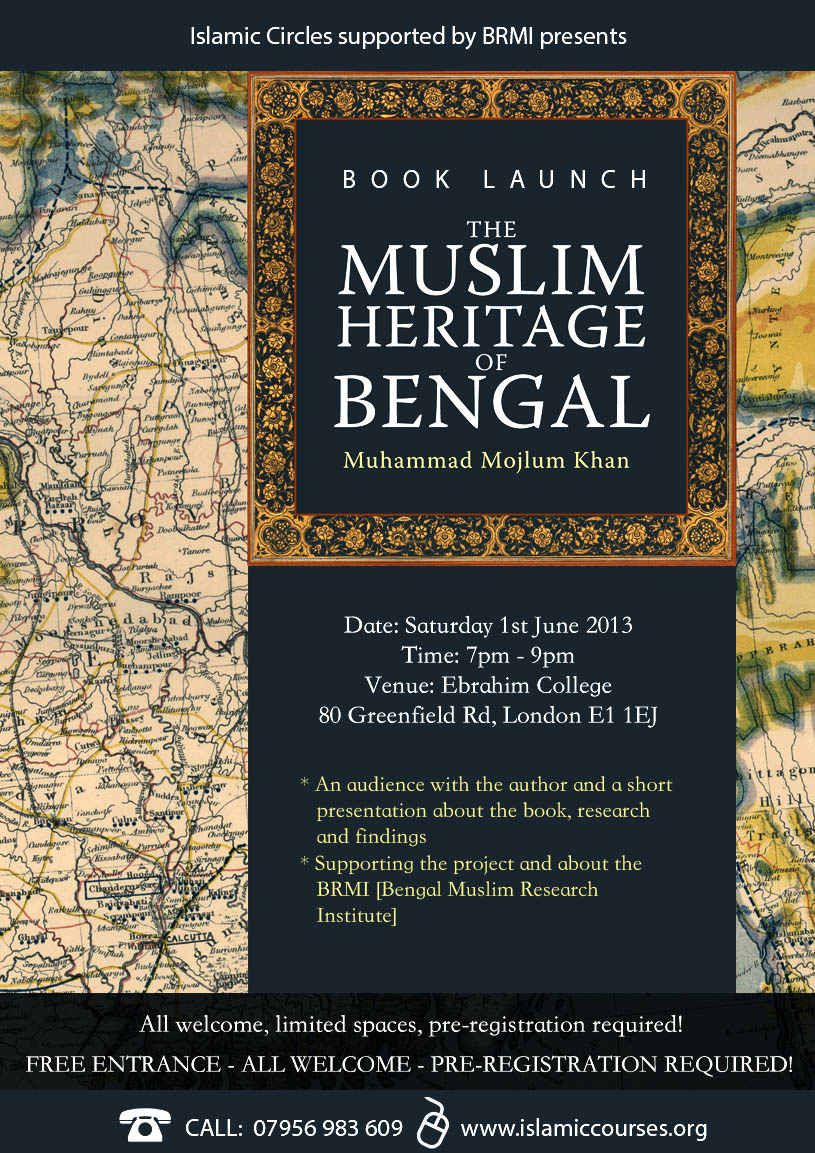 Islamic Circles supported by the Bengal Muslim Research Institute UK [BRMI] presents:
BOOK LAUNCH: THE MUSLIM HERITAGE OF BENGAL
Written by Muhammad Mojlum Khan [Author]*
Date: Saturday 1st June 2013
Time: 7pm - 9pm
Venue: Ebrahim College, 80 Greenfield Rd, London E1 1EJ
BOOK ONLINE NOW AT:   http://bengalhistorybooklaunch.eventbrite.co.uk - TEL: 07956 983 609

BOOKING DEADLINE: FRIDAY 31ST MAY 2013 - LIMITED SPACES - FREE ENTRANCE!

A popular and fascinating history book that covers 800 years of the
history of Islam in Bengal (present-day Bangladesh and West Bengal)
through the example of 42 inspirational figures up until the 20th
century by the author of the internationally acclaimed and
bestselling book, The Muslim 100.

The Muslims of Bengal have a rich and diverse cultural history spanning
more than a millennium. However, the existing literature on the subject
has been written from a secular, nationalist, sectarian or Orientalist
perspective which regarded the history of Muslim Bengal as being no
more than a footnote to a greater India-centric or Pakistan-centric
view of the Subcontinent. As a result, the Islamic perspective on the
subject was overlooked. In this book an attempt has been made to move
beyond existing ideological interpretations by pursuing an Islamic approach.

The Bengali-speaking Muslims, around 200 million people, constitute one of
the largest linguistic groups in the Muslim world, second only to the Arabs.
If the Bengali-speaking people are a minority in the Subcontinent, then
Bengal's Muslims are not a minority in the Muslim world. Covering 800 years
of the history of Islam in Bengal, this informative, authoritative and
inspiring book has been hailed as a pioneering contribution on the subject
aimed at a new generation of students, scholars and general readers.

Who was Shah Jalal? When did Islam first enter Bengal? Who was the Muslim
conqueror of Bengal? Why did the people of Bengal embrace Islam in such
large numbers? Did Bengal produce any great Muslim scholars and leaders?
What about the Muslim women of Bengal: did they contribute anything worthwhile?
For the very first time, this book provides answers to these and many other
similar questions through the lives of outstanding Muslim personalities of
Bengal – written from an entirely Islamic perspective. This book is a real
eye-opener; nothing like it exists in Bengali, English, Urdu or any other
language!


Some of reviewers of the book include:
"The Muslim Heritage of Bengal is a multidimensional work covering
aspects of the Muslim history, culture and heritage of Bengal from
the early thirteenth century to the modern times… I am sure this
book shall add to the vista of knowledge in the field of Muslim
history and heritage of Bengal. I recommend this work."
– Dr A. K. M. Yaqub Ali, Professor Emeritus, Islamic History
& Culture, University of Rajshahi and renowned historian of Bangladesh

"This book provides glimpses of Bengal's Muslim history from the
beginning of the 13th century to more recent events during the
early part of the 20th century. Khan's book provides invaluable
information which will inspire present and future generations
regarding the Muslim history, culture and heritage of Bengal.
Highly recommended reading for Muslims and non-Muslims, young
and old alike." – Dr M. Abdul Jabbar Beg, Formerly
Professor of Islamic History & Civilization at National
University of Malaysia and co-author of A Journey through
Islamic History: A Timeline of Key Events.
 
*About the author


Muhammad Mojlum Khan is an award winning writer, literary critic
and research scholar. He has published more than 150 essays and
articles worldwide, and his writings have been translated into
many languages including Bengali, Indonesian and German. He is
author of the bestselling book, The Muslim 100 (2008) and his
forthcoming titles include Pioneers of Islam in Bengal and
Against the Tide: Thoughts on Islam and Contemporary Issues.
He is a Fellow of the Royal Asiatic Society of Great Britain
and Ireland, and a Founding Director of Bengal Muslim
Research Institute UK (BMRI).
BOOK ONLINE NOW AT:   http://bengalhistorybooklaunch.eventbrite.co.uk - TEL: 07956 983 609

BOOKING DEADLINE: FRIDAY 31ST 2013 - LIMITED SPACES - FREE ENTRANCE!
For an up-to-date list of all of our courses, please visit 
our website at www.islamiccourses.org and also follow us on
When & Where

Ebrahim College
80-82 Greenfield Road
Address Line 2
E1 1EJ London
United Kingdom


Saturday, 1 June 2013 from 18:00 to 21:00 (BST)
Add to my calendar
Organiser
Islamic Courses is a "non-profit" project initiated by Islamic Circles, a community-based network that has been running at the Froud Centre, East London since January 2001. They organise a wide range of Islamic events, projects and activities including short courses, seminars, workshops, social gatherings and more.