Description
On 3rd July, join Shirley Charters at Heffers as she celebrates publication of her new book The Mystery of King John's Treasure.
Sunday evening, October 9th, 1216. King John is facing continued civil war and a devastating French invasion; treacherous times. We discover him crossing the tidal marshes of the Fenlands of East Anglia. He is about to lose England's crown jewels, his gem collection, and sackfuls of silver coins with his image on them: a treasure trove. What happened? What was he doing in that remote and windswept place? Why did he take the crown jewels with him? And why did he die so soon afterwards? Eight hundred years of searches by Fenfolk, academics, newspaper magnates, Victorian eccentrics and even an American research company have found nothing. No golden chalice, no pearl studied casket, no coins. Why?
Shirley Charter's book follows King John at that vulnerable time, day by day, and reveals for the first time some surprising and interesting answers to the many questions posed by the mystery of his lost treasure.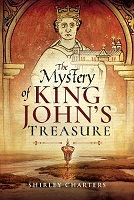 The Mystery of King John's Treasure will be available to purchase at the launch and Shirley will be signing copies during the evening.
The event is free to attend but booking is required to be guaranteed entry. TIckets can be booked through this page, by calling 01223 463200 or in person at Heffers bookshop. Please note this is a celebratory, informal event, not a full author talk.
Like this? See a full list of our events here.