Description
Heffers is delighted to welcome Victoria Bateman for the launch of her new book The Sex Factor - How Women Made the West Rich.
It's time to see women as active creators not passive beneficiaries. Looking to the history of the now rich economies, we see that women's freedom comes first, not last. It is the elephant in the room when it comes to explaining how a small country like Britain moved from being a backwater to global economic leader. Whilst women's freedom was by no means perfect, it was superior to much of the rest of the world, giving the West an advantage that was difficult to beat. I argue that it boosted wages, skills, saving, entrepreneurial spirit and helped to produce a democratic and capable state. If the West wants to stay ahead, that's worth remembering today.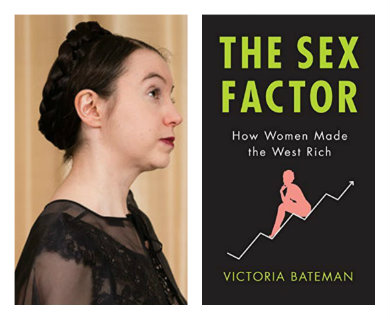 Victoria Bateman is a Director of Studies and Fellow and College Lecturer in Economics at Gonville & Caius College, University of Cambridge. She has written regular commentary for publications such as UnHerd, CapX and Bloomberg View. She writes and speaks on topics ranging from popular economics to economic history and feminism. Victoria also uses the medium of art and of protest to engage with questions about women and society.
The launch is free to attend but booking is essential as spaces are limited. Tickets can be booked through this page, by calling 01223 463200 or in person at Heffers bookshop. Please note this is an informal, celebratory event, not a seated talk; a limited number of chairs will be available.
Like this? See a full list of our forthcoming events by clicking here.