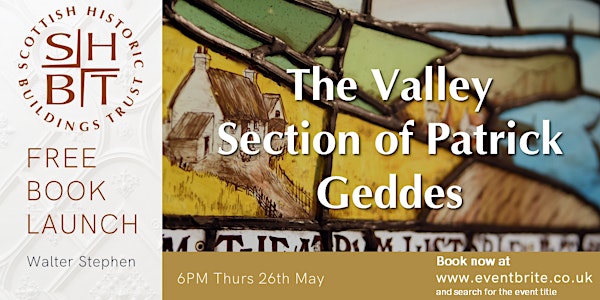 Book Launch - The Valley Section of Patrick Geddes by Walter Stephen
Location
Riddles Court
322 Lawnmarket
Edinburgh
EH1 2PG
United Kingdom
Walter Stephen presents his new book 'The Valley Section of Patrick Geddes' at Riddle's Court in Edinburgh.
About this event
The Valley Section of Patrick Geddes was a construct by the Scottish polymath Patrick Geddes of how humans engaged with the landscape. His stained glass version made for the Outlook Tower is now in the care of the Scottish Historic Buildings Trust in Riddle's Court, Lawnmarket, Edinburgh – a building with Geddes associations.
In 'The Valley Section of Patrick Geddes'* Walter Stephen of the Sir Patrick Geddes Memorial Trust explores what lies behind the surface, shows how the original idea was copied and developed and gives examples of its relevance to today.
The Scottish Historic Buildings Trust is pleased to host the formal launch of 'The Valley Section of Patrick Geddes' by Walter Stephen on Thursday 26 May 2022, from 1800 to 1945.
The programme will be as follows:
Welcome
Una Richards (Scottish Historic Buildings Trust) - SHBT and the Living Heritage
Walter Stephen (Patrick Geddes Memorial Trust) – The Valley Section, Then and Now
Short tour (weather dependent) – Riddle's Court interior or Geddes walkabout
Q and A and discussion.
Book signing and sales
*Book details – 96 pp, 10 colour plates, 23 B/W illustrations, ISBN 978-095551904-8, UK price, £8.99
This is a free event though spaces should be reserved on Eventbrite. There will also be spaces available on the door.