Description
Heffers is delighted to welcome back Guinevere Glasfurd to celebrate the launch of her second novel, The Year Without Summer.
The Year Without Summer is the story of the books written, the art made; of the journeys taken, of the love longed for and the lives lost during the fateful year of 1815-1816 when Mount Tambora, on the Indonesian Isle of Sumbawa, explodes in a cataclysmic eruption, killing thousands. Six separate lives, connected only by an event many thousands of miles away. Few had heard of Tambora - but none could escape its effects.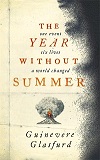 Guinevere's first novel, The Words in my Hand, was shortlisted for the Costa First Novel award, the Authors' Club Best First Novel Award and longlisted for the Prix du Roman FNAC.
The launch is free to attend but booking is essential as spaces are limited. Tickets can be booked through this page, by calling 01223 463200 or in person at Heffers bookshop. Please note this is an informal, celebratory event, not a seated talk; a limited number of chairs will be available.
Like this? See a full list of our forthcoming events by clicking here.