Description
On Thursday 28th June at 6.30pm, join Mandy Morton at Heffers as she celebrates publication of her new novel, the sixth book in the No. 2 Feline Detective Agency series, Magical Mystery Paws.
All aboard for the Summer of Fluff! In scorching temperatures, Hettie Bagshot and her sidekick Tilly set out on a road trip to catch a killer cat amid a sea of entertainers. As Psycho Derek's bus lurches from one venue to the next, the killer strikes again. The big question for The No. 2 Feline Detective Agency is who will be next? Will it be Patty Sniff, the ageing punk star? Or Kitty O'Shea from the Irish dance troupe? Or perhaps Belisha Beacon's days are numbered. As the fur flies and the animosity builds, Hettie and Tilly become embroiled in a world of music, mayhem and murder. As matters draw to a terrifying conclusion, will Magical Mystery Paws finally top the bill?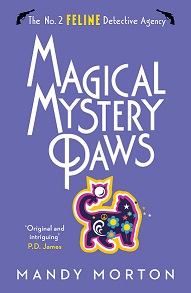 The launch is free to attend but booking is essential to be guaranteed entry. Tickets can be booked via this page, by calling 01223 463200 or in person at Heffers bookshop. Please note this is a celebratory, standing event, not a formal talk; a limited number of chairs will be available.