Description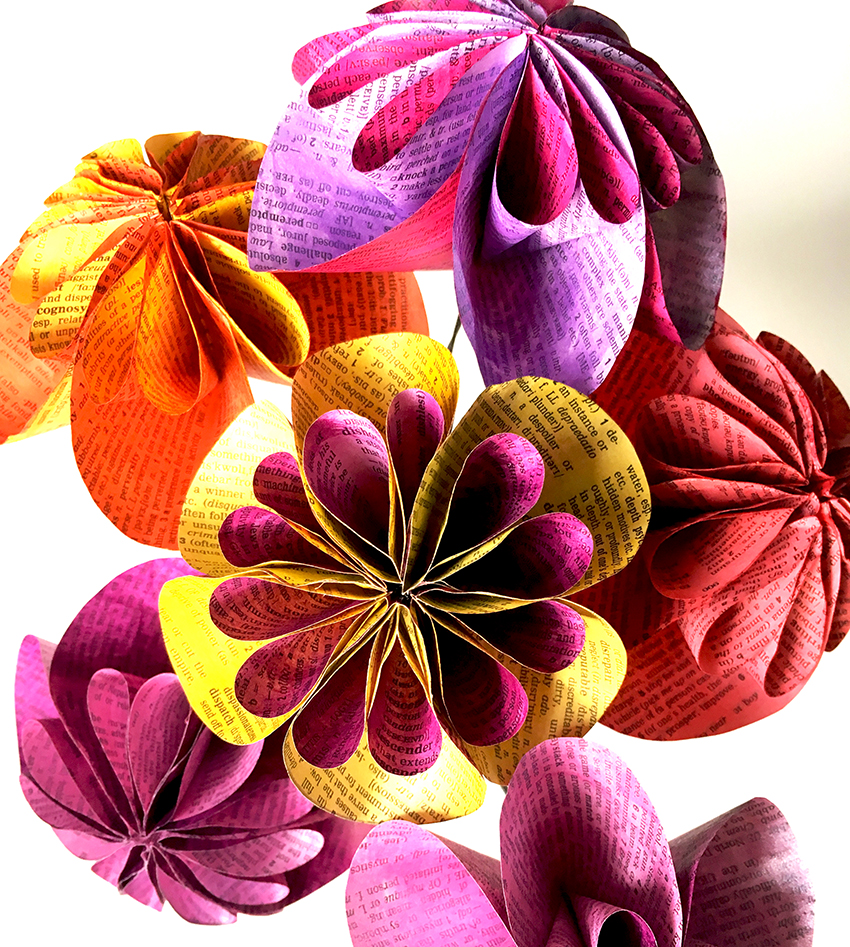 Hello! Come and join me to make a bouquet of flowers perfect for you, a special friend or your Mum for Mother's Day! If you love these flowers anywhere near as much as I do, then it's all going to be good! I hope I have answered all your questions below, but if not, just get in touch.
What will I make?
On this workshop you'll learn how to make a bunch of beautiful handmade paper flowers, as shown in the images above. We will be using the pages of old books (dictionaries to be precise) and you'll use professional quality lightfast inks to paint the flowers any colour of your choosing. This means that over time, the colours of your flowers should not fade. Or you can just leave them plain, it's up to you. There are 3 'styles' of flowers that you can make and you'll learn how to attach stems made from modelling wire to your flowers, so that they can sit in a vase and look jaw-droppingly gorgeous!
How many will I make?
You can make up to 9 flowers, in both a small and large size. It is likely that you will not get them all made during the afternoon, but all materials are provided so you will be able to take everything that you need with you, so that you can finish your bouquet at home.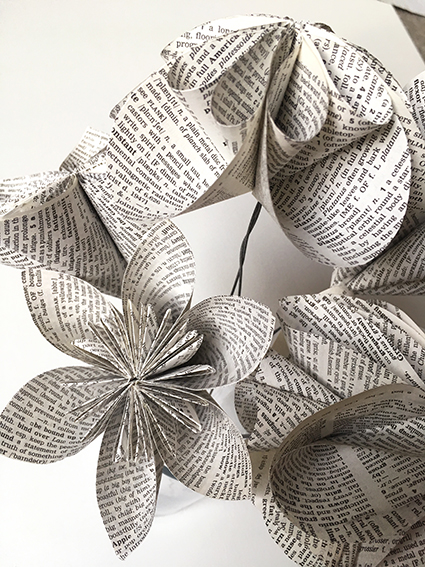 What if I am a complete beginner?
No problem! This is perfect for beginners and I will guide you through the process step by step. Once you have made a few, you'll be able to do them in your sleep, I promise!
What age is this suitable for?
This workshop is aimed at adults, but capable and crafty-minded older teenagers would be welcome. Please do not book younger children onto this course as we will be using sharp scissors and scalpel blades.
How many people will there be?
There are a maximum of 10 places on this workshop.
Can I park nearby?
Yes, there is lots of parking at the Carlton Club itself and plenty of parking on the streets around.
Where can I get a cup of tea??
Lucky you! Refreshments are provided and we will stop for a short tea-break that will include a selection of vegan treats and homemade cakes.
Ok, that all sounds great!
Fantastic! I hope to see you there! Many thanks, Alison x