A Fable About Following Your Dream
About this event
In this event, you'll learn
Questions To Consider While Reading:
Where did you think the treasure was while you were reading? Did you think it existed?
Would you follow visions and innuendos form others to find your "treasure"?
Did you like the style of writing? Why or why not?
Did you like the line between reality and the supernatural?
Did you notice the circular theme? Santiago ended up where he started o find the treasure?
Do you think he will return to Fatima and complete another circle?
About the Author
Paulo Coelho was born in Rio de Janeiro, Brazil, the city where he now lives. His own life has in many ways been as varied and unusual as the protagonists of his internationally acclaimed novels. Like them, Paulo Coelho has followed a dream in a quest for fulfillment. His own dream, to be a writer, met with frustration throughout much of his early adult life, a time in which he worked at various professions, some of them materially rewarding but spiritually unfulfilling. "I always knew," he says, "that my Personal Legend, to use a term from alchemy, was to write." He was 38 when he published his first book.
In 1970, after deciding that law school was not for him, he traveled through much of South America, North Africa, Mexico, and Europe. Returning to Brazil after two years, he began a successful career as popular songwriter. In 1974, he was imprisoned for a short time by the military dictatorship then ruling in Brazil. In 1980, he experienced one of the defining moments of his life: he walked the 500-plus mile Road of Santiago de Compostela in northwestern Spain. On this ancient highway, used for centuries by pilgrims from France to get to the cathedral said to house the remains of St. James, he achieved a self-awareness and a spiritual awakening that he later described in The Pilgrimage.
Paulo Coelho once said that following your dream is like learning a foreign language; you will make mistakes but you will get there in the end. In 1988, he published The Alchemist, a novel that explores this theme, and it launched him as an international bestselling author. Specifically, Paulo Coelho is recognized for his powerful storytelling technique and the profound spiritual insights he blends seamlessly into his parables. Since then, The Alchemist has sold more than 11 million copies worldwide and has been translated into some 41 languages. In addition to The Pilgrimage and The Alchemist, Paulo Coelho has written luminous novels about the different streams of our lives, including By The River Piedra I Sat Down & Wept, The Valkyries, The Fifth Mountain, and Veronika Decides to Die. A winner of numerous literary prizes, Paulo Coelho is also a prominent speaker for humanitarian causes. In 1999, he received a Crystal Award for Artistic Achievement at the Davos Economic Forum Conference.
Overview
A recurring dream troubles Santiago, a young and adventurous Andalusian shepherd. He has the dream every time he sleeps under a sycamore tree that grows out of the ruins of a church. During the dream, a child tells him to seek treasure at the foot of the Egyptian pyramids. Santiago consults a gypsy woman to interpret the dream, and to his surprise she tells him to go to Egypt. A strange, magical old man named Melchizedek, who claims to be the King of Salem, echoes the gypsy's advice and tells Santiago that it is his Personal Legend to journey to the pyramids. Melchizedek convinces Santiago to sell his flock and set off to Tangier. When Santiago arrives in Tangier, a thief robs him, forcing him to find work with a local crystal merchant. The conservative and kindly merchant teaches Santiago several lessons, and Santiago encourages the merchant to take risks with his business. The risks pay off, and Santiago becomes a rich man in just a year.
Santiago decides to cash in his earnings and continue pursuing his Personal Legend: to find treasure at the pyramids. He joins a caravan crossing the Sahara desert toward Egypt and meets an Englishman who is studying to become an alchemist. He learns a lot from the Englishman during the journey. For one, he learns that the secret of alchemy is written on a stone called the Emerald Tablet. The ultimate creation of alchemy is the Master Work, which consists of a solid called the Philosophers Stone that can turn lead to gold, and a liquid called the Elixir of Life that can cure all ills. Santiago learns the Englishman is traveling with the caravan to the Saharan oasis of Al-Fayoum, where a powerful, 200-year-old alchemist resides. The Englishman plans to ask the alchemist the secret of his trade.
As it turns out, the caravan must make an extended stop in Al-Fayoum in order to avoid increasingly violent tribal wars taking place in the desert. There, Santiago falls in love with Fatima, who lives at the oasis. During a walk in the desert, Santiago witnesses an omen that portends an attack on the historically neutral oasis. He warns the tribal chieftains of the attack, and as a result, Al-Fayoum successfully defends itself against the assault. The alchemist gets word of Santiago's vision and invites Santiago on a trip into the desert, during which he teaches Santiago about the importance of listening to his heart and pursuing his Personal Legend. He convinces Santiago to leave Fatima and the caravan for the time to finish his journey to the pyramids, and he offers to accompany Santiago on the next leg of his trip.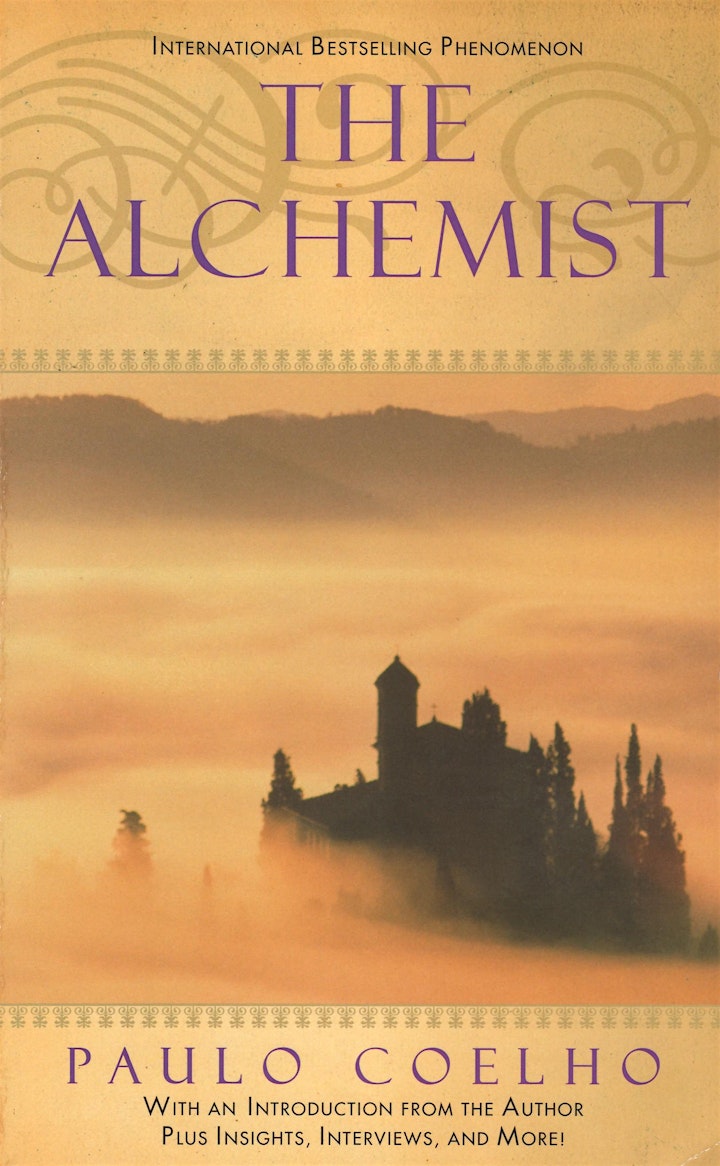 Organiser of Book Review & Discussion : The Alchemist