Rachel Dinah , Book launch : The Mind of A Teen . Entry includes : Meet and Greet , Book signature , Photo. Books on sale Add ons -
About this Event
The Mind Of A Teen book signing event has been postponed until London restrictions eases. All tickets purchased will allow entry to the confirmed date.
ALTERNATIVE
If you would like a posted signed copy please email
themindofateen1@gmail.com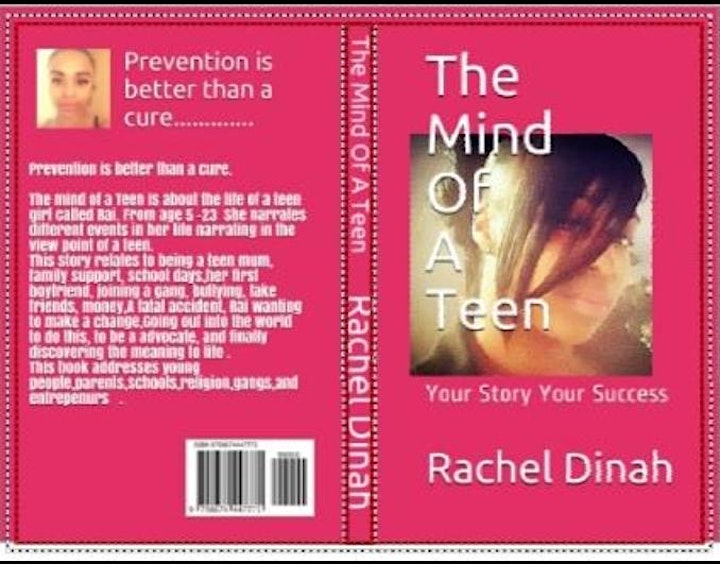 https://www.amazon.co.uk/dp/B08FP9XBVM/ref=cm_sw_r_sms_awdb_imm_t1_0XJYFbGA7DSVS
The Mind of a Teen: Your story; Your success; Prevention is better than a cure. New Novel release and  book signing event .Rachel Dinah's 'The Mind of a Teen :The Mind of a Teen is a fictional story about the life of a teen . A 16 year old recounts events from her life from age 5 after a serious event.Rai, covers scenarios with male role models, Starting a new school, Fake friends, Bullying, First boyfriend, Being a teen mum , and other challenging events .
Through all of this, she figures out what her purpose in life and the meaning. You then see how Rai uses her experiences to empower young people around the world through different creative pursuits. This story is full of laughter , tears and insight.
The Mind of A Teen  Amazon link;https://www.amazon.co.uk/dp/B08FP9XBVM/ref=cm_sw_r_sms_awdb_imm_t1_0XJYFbGA7DSVS
Author comments"Having been there myself and working with young people, I have a deep understanding of the adversities young girls and boys in large cities around the world face," explains the author. "At the same time, I also know and empathise with the myriad of opportunities that they want to pursue. I wrote this book to tell the full-circle story from one teenage girl's perspective, in the hope it will inspire others to kickstart their own success story."
Continuing, "I'm so privileged to be able to spend my time travelling around the country speaking to groups, holding workshops and helping thousands of youngsters take the hard lessons they have learned from their past and turn them into a prosperous future."
Contact details:
Rachel Dinah
Email: themindofateen1@gmail.com
Website: www.changeofthoughts.com
*Rachel Dinah is Available for Interviews before and after book signing event Book signing details Date ; ( date postponed ) to be confirmed after PM announcement
*Free entry for press Address; Catford cinema , Catford Mews, Winslade way, Catford,  SE6 4JU https://www.eventbrite.co.uk/e/book-signing-launch-the-mind-of-a-teen-tickets-130034098489
  *Free entry for press with media ticket presented 
FOR IMMEDIATE RELEASEThe book has already attracted excellent reviews from the Canary. Rochelle A giving it 5 Stars & quotes ;Phenomenal and highly recommended. This book was amazing. I loved how it was laid out and how it guides the readerthrough realistic scenarios and explains how to best avoid such situations. I am grateful that the author shared this with us. Definitely recommend for teens for further guidance and adults for clarity. 10/10;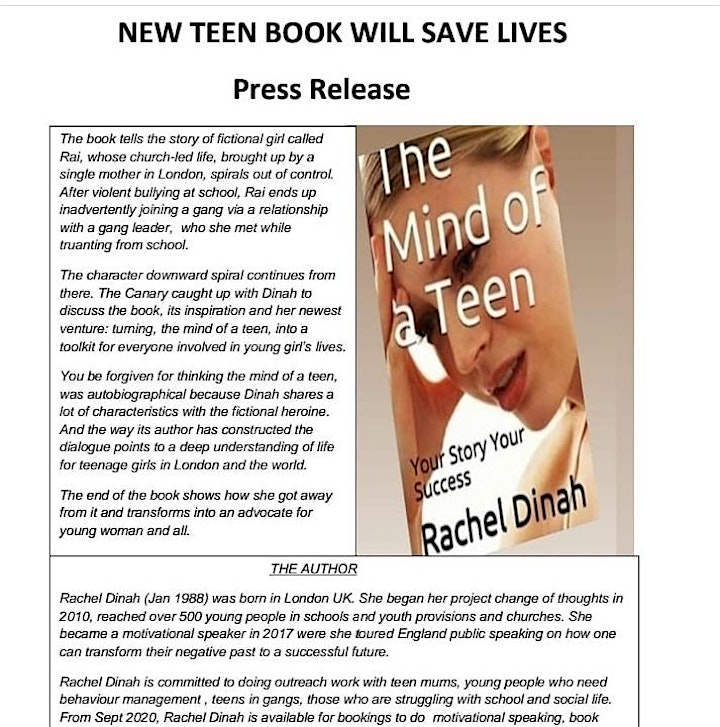 Due to covid 19 restrictions. Please wear a mask and apply to the government regulations .
Please email themindofateen1@gmail.com for any queries about your ticket or books .