Location
Heffers Bookshop
20 Trinity Street
Cambridge
CB2 1TY
United Kingdom
Description
First there was University Challenge, then a radio show - now Eric Monkman and Bobby Seagull have written their own quiz book!
Yes, everyone's favourite university quiz show contestants have put their brains and devilish wit together to produce a book full of tricks and tests to taunt event the smuggest sofa shouter. From puzzles to pop quizzes on everything to particle physics to philharmonics, it's sure to perplex even Jeremy Paxman.
Come along to Heffers on 10th November and meet two of the legendary series' most memorable contestants, and get your copy of the quiz book signed.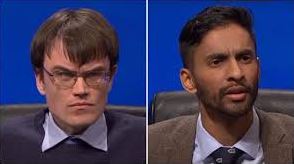 Please book your free ticket through this page or in person at Heffers bookshop.

The Smallprint: Only copies purchased at Heffers will be signed. We can only guarantee you will meet Eric and Bobby if you have booked a ticket, and are in the queue by by 5.30pm.

If you have any questions, please send an email via the 'contact' button on this page.