Description
As part of his time in Cambridge, appearing for two nights at the Corn Exchange, Heffers is delighted to welcome award-winning comedian Stewart Lee, to sign copies of his latest book, March of the Lemmings.
As a Metropolitan Elitist Snowflake, Stewart Lee was disappointed by the Brexit referendum result of 2016. But he knew how to weaponise his inconvenience. He would treat all his subsequent writing, until we left the EU, as interrelated episodes of a complete work. Drawing on three years of newspaper columns, a complete transcript of the Content Provider stand-up show, and Lee's caustic footnote commentary, March of the Lemmings is the scathing, riotous record the Brexit era deserves.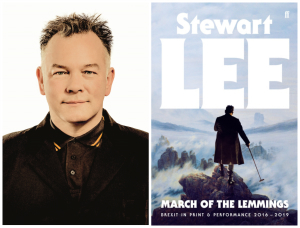 The signing is free to attend but please book a ticket to help us with planning. Please note Stewart will only be signing books bought from Heffers.
If you are unable to attend but would like to request a signed copy, please send an email via the 'contact' button on this page.
Like this? See a full list of our forthcoming events by clicking here.