Description
DO YOU WANT TO WRITE A BOOK AND BECOME A BEST-SELLING AUTHOR?
*** SATURDAY the 3rd of AUGUST from 12 MIDDAY until 3pm***
Attend a 1-day book writing and publishing training course with number 1 bestselling author and award-winning publisher, Richard McMunn.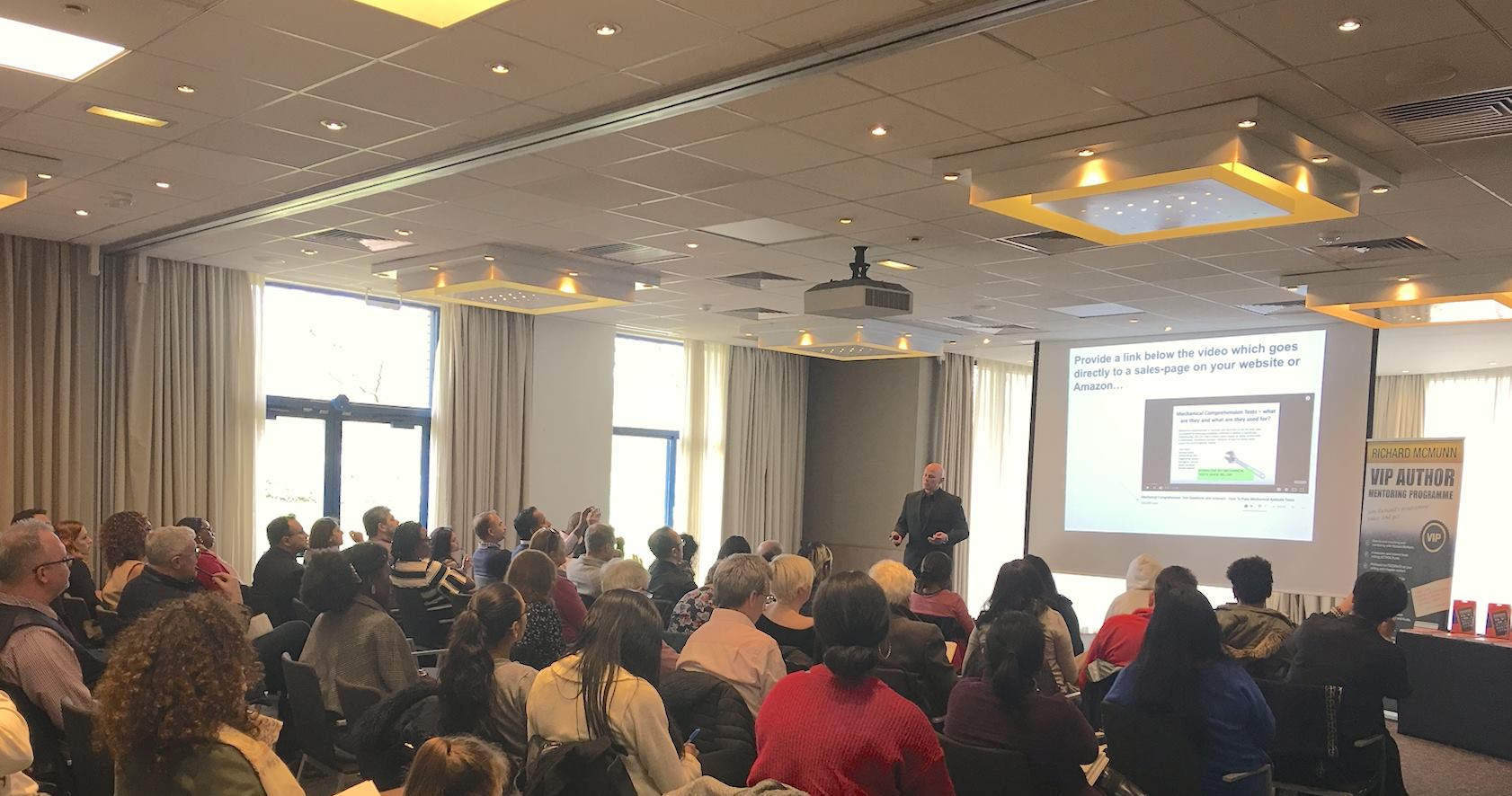 NEXT COURSE DATE:
SATURDAY THE 3rd of AUGUST 2019 from 12 midday until 3pm

Presented by UK best-selling author and publisher, Richard McMunn, this comprehensive seminar will give you everything you need to write your very own book, get it published, and become a best-selling author.
YOU ARE JUST

ONE SEMINAR AWAY

FROM HAVING ALL THE TOOLS, RESOURCES AND KNOWLEDGE YOU NEED TO MAKE IT HAPPEN FOR REAL.

DURING MY BOOK WRITING AND PUBLISHING SEMINAR, YOU WILL DISCOVER.
- How to choose a genre for your book that will practically guarantee sales.
- How to give yourself the best possible chance of writing a best-seller, including in-depth tuition on how the Amazon bestseller system works.
- How to choose a powerful, captivating title that will hook in readers and make them desperate to know more.
- How to get your book ready for publishing, including critical elements such as proof-reading, editing, typesetting, e-Book formatting, book cover design, book descriptions, and more.
- How to create high-quality, professional artwork for your book, both digital and physical, ensuring that it stands out from the crowd.
- How to outsource the actual writing of the book (that's right, if you don't actually want to write the book yourself, you don't have to!)
- How to self-publish your book and start selling it on Amazon, and even Waterstones!
- How to effectively market your book to increase exposure worldwide, drive sales and generate huge profits.
- And much, much more...
This course is suitable for any genre of book writing and publishing, including fiction, novel, mystery crime and thriller and non-fiction.
I look forward to seeing you at the event.
Richard McMunn
Number 1 bestselling author
Award-winning publisher
FAQs
How can I contact the organiser with any questions?
Please email Richard McMunn directly at info@bookseminar.co.uk.
Where does the course take place?
The course takes place at:
Novotel, Cherry Lane, West Drayton, Junction 4 of the M4, UB7 9HJ. HEATHROW
Is there parking at the hotel?
Yes, there is plenty of parking at the hotel. The cost to park at the hotel is £6.50 for the duration of the course.