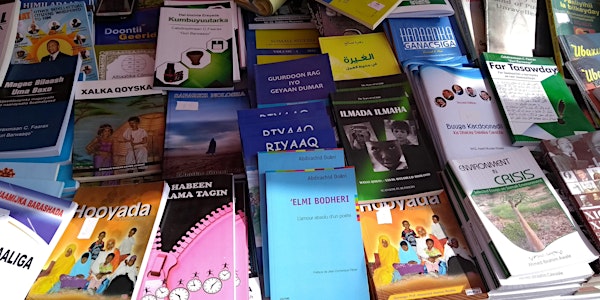 #BookFairs: Somali literary heritage in the digital age
Location
The Liddell Hart Centre for Military Archives - King's College London
Strand
London
WC2R 2LS
United Kingdom
Pete Chonka discusses his research on Book Fairs and literary activism in the Somali Horn of Africa.
About this event
As part of King's Africa Week, the Department of Digital Humanities and King's Archives & Research Collections are hosting an afternoon of interactive activities and discussions around African cultural heritage and historical collections.
From 4-5pm Dr Pete Chonka (Digital Humanities) will discuss his research on the phenomenon of Book Fairs in the Somali Horn of Africa. For a region that is often described (in external media) in terms of conflict and instability, why are Book Fairs are such an important feature of civil society activism? Why are they such youth-dominated events, and what role does social media play in the promotion of print culture?
Pete will discuss these questions with participants and highlight the political and cultural significance of Book Fairs within a fragmented region. We will explore our own assumptions about 'old media' in the digital age, and examine possibilities for connected Somali literary activism within the region and beyond.
The King's Archives are located on the 3rd floor of the Strand Building (from the stairs/lifts, just turn right).
To register for the other sessions in the Digital Humanities/Open Archives afternoon Africa Week event see here:
2-3pm: African cultural heritage in the digital age: Museum in a Box
3-5pm: Africa in focus: Insights from King's College London Archives