Description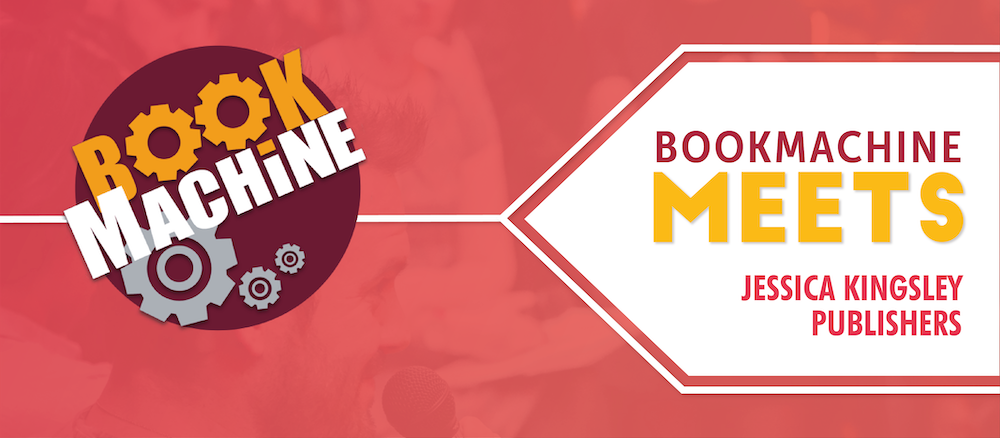 BookMachine meets... is a brand new event series from BookMachine, aimed at offering real insight into how different publishing houses operate. At each event the panel of in-house experts will explain the fundamentals of their business and the secrets to their market success.

First up, BookMachine meets Jessica Kingsley Publishers at Carmelite House on Thursday 30th May.

Jessica Kingsley Publishers (JKP) publishes books that make a difference to society, with market-leading lists on autism, mental health and gender diversity. In 2017 they joined the John Murray Press division at Hachette.

The JKP team recently celebrated 32 years of continuous growth, and their 3rd place in 4 years on the shortlist for Academic, Educational and Professional Publisher of the Year at the British Book Industry Awards, an award they won in 2016. They attribute their success to their ability to effectively commission for, market, publicise and sell to niche audiences, and their ability to make specialist topics accessible to mainstream audiences. At BookMachine meets... you will find out more.

The event will cover four main areas:
Commissioning – how they identify emerging markets, gaps in existing markets and stay ahead of the curve

Marketing - tailoring marketing approaches for different audiences, from writing copy to using content to SEO; working with small budgets; using a broad range of on and offline channels and working out which would be most effective for each book
Publicity - deciding when mainstream publicity will sell a book vs specialist publicity; using expert authors; pitching books on controversial subjects

Sales - maintaining relationships with trade and specialist customers equally; identifying special sales opportunities with NGOs, professional organisations, and local government; selling translation rights to publishers abroad as interest in JKP's topics grows around the world.

The following members of the JKP team will be sharing their knowledge:

Sanphy Thomas, Managing Director, joined in October 2018. She has worked in academic, specialist and professional publishing for over 20 years in various marketing positions. Prior to her current role she was Executive Head of Marketing at SAGE Publishing; she has also worked at Macmillan, Taylor & Francis and Blackwell Publishing.
Lisa Clark, Editorial Director - Lisa leads editorial strategy for JKP's Autism & Neurodiversity and Education lists, as well as the Singing Dragon imprint. These days her own commissioning tends to be solely for the Autism list. Lisa began working for JKP in 2007 as Production Editorial Assistant and became a commissioning editor in 2009.
Andrew James, Senior Commissioning Editor - Andrew commissions books for JKP's market-leading Gender Diversity list. Prior to joining JKP in 2016, he was Senior Commissioning Editor at Palgrave Macmillan, and in 2018 he featured on The Bookseller's list of Rising Stars. He is co-chair of the Hachette Pride Network and has been in publishing since 2010.
Sarah Plows, Marketing Manager - Sarah has managed the marketing and publicity team at JKP since 2015, having previously worked for Palgrave Macmillan and Robert Hale. Sarah featured on The Bookseller's 2017 list of Rising Stars.
Lily Bowden, Senior Publicity and Marketing Executive - Lily joined JKP in April 2016 and manages the marketing for our pioneering Gender Diversity list and the publicity for all of JKP's trade titles – a real mix! Before she joined JKP she worked in marketing and sales for creative and advertising agencies.
Pippa Adams, Special Sales and Rights Assistant - Pippa joined JKP in 2017 after working as a sales representative for Pearson's distributor in the Middle East for 3 years, selling educational titles to international schools in Egypt. She is also a postgraduate student at Birkbeck College, University of London.

The event starts at 6.30pm on the top floor of Hachette's riverside headquarters, Carmelite House. There will be drinks available on arrival, and the talks will start at 7.30pm. Tickets cost £10, and there are 20 free places available for BookMachine members on a first-come-first served basis.