BOOKMARK 2021 Launch with Richard Frazer & Olga Wojtas Part 2 - SOLD OUT
Meet the Author with Richard Frazer & Olga Wojtas
About this event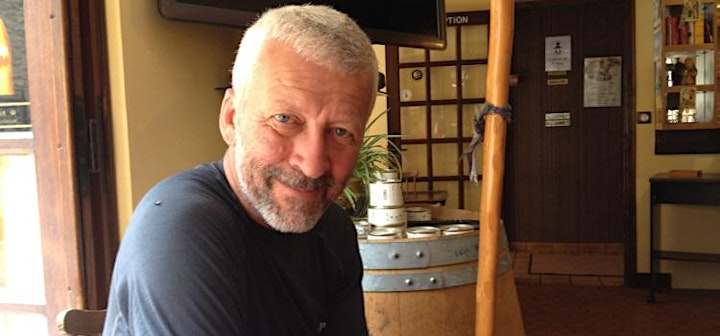 On Saturday 27 March 2021, BOOKMARK hosted a wonderful discussion between Richard Frazer and Olga Wojtas. Following on from the success of this event, BOOKMARK announces Richard and Olga - Part 2.
On the 25th anniversary of his ordination at Greyfriars Kirk in Edinburgh, Richard's congregation gave him money and a guidebook to the Santiago de Compostela pilgrim route. The completion of this pilgrimage had been a long-time dream of Richard's as he firmly believes that such a journey, taken with an 'open and hospitable heart' can provide spiritual renewal and transformation. 'I learned so much when I was walking by meeting strangers coming together in the search for spiritual depth.'
Six years later, his book Travels with a Stick, is an absorbing account of this journey. Richard has also been influential in opening up pilgrim routes in Scotland, most notably the Forth to Farne Way which travels from North Berwick to Lindisfarne.
In this time of Covid 19, being confined to our homes with limited access to the great outdoors, Richard Frazer reminds us of how essential, and healing, being outside and amongst nature is.
Olga Wojtas, a favourite guest of BOOKMARK, walked the Santiago Way last year and will Chair this session with her winning combination of a lightness of touch with acute observation.
Organiser of BOOKMARK 2021 Launch with Richard Frazer & Olga Wojtas Part 2 - SOLD OUT
The motto of BOOKMARK is 'Go with the Flow'; a phrase which evokes the river Ericht that flows through the centre of Blairgowrie, our home. It's an encouraging and forward-thinking motto, reminding us that it is often a liberating thing to be free of concerns and constraints and to look ahead, not backwards.  It suggests, rather than demands, that we should be caught up in the moment for our own good.

It seems to me that it's what Book Festivals are all about.  Go with the flow of ideas from all the invited authors - don't just step into the stream of those you've heard of. Trust the direction of the current and meet new writers, new topics, new ways of thinking. Go with the flow and travel to other times, other countries, other ideas.  Re-connect with the familiar by encountering the strange.

BOOKMARK is a unique Festival in a beautiful part of Perthshire. Let us celebrate all that it has to offer, step into that river of ideas and 'Go with the Flow'.
Gail Wylie, BOOKMARK Chair