Description
Books by the Beach with Margate Bookie – Saturday 20th August
A full day experience for booklovers - an amazing day of authors, performance poetry, relaxation and creativity at the south coast's newest literary festival, Margate Bookie.
Great value, £41 price includes:
Return group rail travel (11.09am from St Pancras, returning 11.21pm)

Three key headline literary events (see below)


Coffee/tea & cake in Margate

Plus optional gallery visit & short orientation tour
Join Half Day Holidays to enjoy a Margate book buzz by the beach with other book lovers.
We leave St Pancras on the 11.09 high speed train for literary chat and making new friends on the train - and by 12.40 we are walking across the golden sands for Seeing Round Corners at the Turner Contemporary.
There's time for lunch – everything from traditional fish & chips to the latest street food – and then you can either purchase tickets for additional literary/mindfulness events or visit the vintage shops of the revamped Old Town.
After that it's off to the glamorous Sands Hotel (on the shortlist for the Luxury Travel Guide Global Award) to hear three fantastic literary talks with time for a beer in between at one of the great ale pubs:
David Quantick 4.30 – 5.30pm
Emmy-winning television writer and author. David's written on many comedy shows, including HBO's Veep, BAFTA winners The Thick Of It and TV Burp.
Caitlin Moran – David Quantick has a medical condition whereby he literally cannot be unfunny
Something Rhymed 5.30 – 6.30pm
Images of literary friendship have become the stuff of legend. Byron and Shelley trading tales of free love on their European escapades, F. Scott Fitzgerald and Ernest Hemingway surviving riotous drinking sprees.
But who did Jane Austen turn to for writerly support? And what about Charlottë Bronte or Virginia Woolf? Author friends Emily Midorikawa and Emma Claire Sweeney of SomethingRhymed.com discuss literary friendship.
Salena Godden - Saturday Night Live at the Sands! 8.30 – 9.30pm
After time for dinner and drinks, join with Salena Godden, returning to her birthplace for one night only! Salena's travelling all the way from the Edinburgh Festival to be at the Margate Bookie and you don't want to miss her. Salena will be introduced by Iain Aitch, another famous author born in the literary Arcadia that is Margate. There's definitely something in the water…
Then it's back to the station for the 9.53pm train to St Pancras, where we can discuss our favourite parts of the day! (Arrival 11.21pm back in London).
NB for a £5 premium you can choose not to come back with the group in case you wish to leave earlier.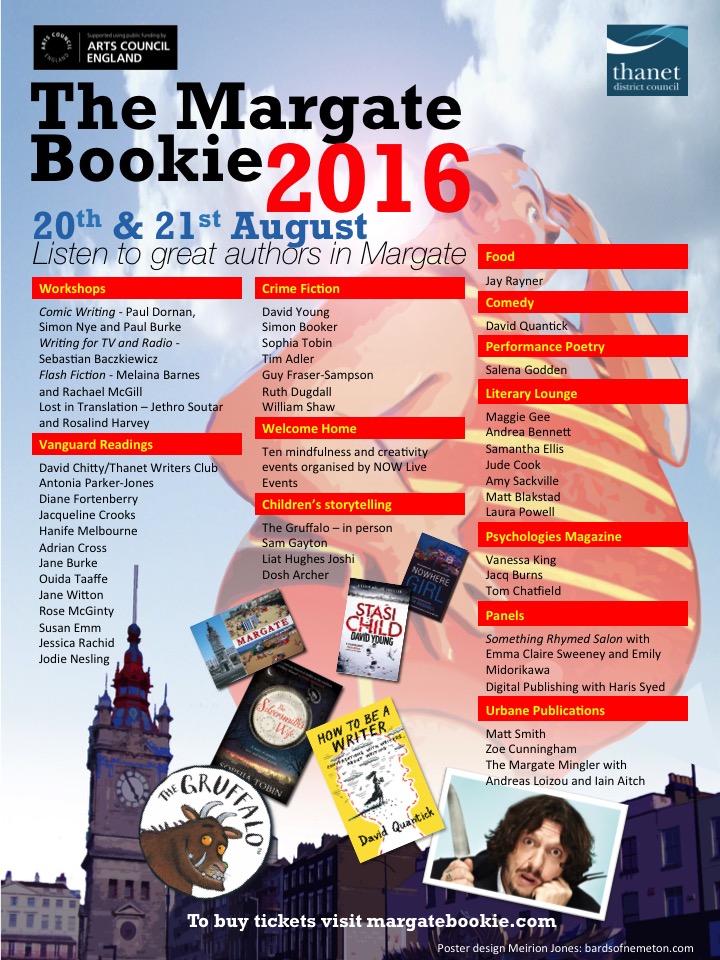 Organiser of Books by the Beach! London Hits the Margate Bookie Literary Festival