Description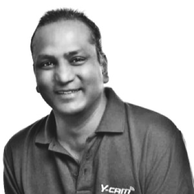 About the tutor:
Jey is a senior technology executive and an entrepreneur who has more than 20 years of experience in bringing innovative products to enterprise and consumer space. He is a founder member and CTO of Y-cam, which is one of Europe's leading smart home security providers.
Prior to Y-cam, he spent 6 years working in the Facilities Management sector where he was responsible for delivering mobile solutions for a number of Fortune 500 companies.
He sold his first technology start-up in the early noughties in Asia and now backs a number of high-profile UK start-ups in Cleantech and Smart Home space.
He is an active member of the London start-up ecosystem, where he regularly delivers talks and workshops.
Specialities: start-ups, technology strategy, strategic partnerships, investment, mentoring, manufacturing, new product development and market expansion initiatives
Interested in: IOT, Cleantech, Blockchain and AI
Breakdown of all sessions in the 'Products to Market' block:
Session 1 - Getting product to the market
Date/time: 26.10.2017, 2pm - 6pm
Small quantity manufacturing in the UK
Certifications
Understanding the Asian manufacturing ecosystem (China vs Taiwan, T1 factories vs smaller factories, MOQ, ODM, EMS, tooling costs)
Creating long term manufacturing partnerships
Lessons learned from my own experience
Session 2 - Building up early sales channel
Date/time: 8.11.2017, 2pm - 6pm
Building sales channels in U.K (Distributors Vs Going direct).
Popular distributors you need to know and how they operate.
Online sales strategy.
Managing various chanel partners.
Lessons learned from my own experience.
Session 3 - Scaling production and sales
Date/time: 22.11.17, 2pm – 6pm
Amazon as a key channel
Building up a monthly run rate
Moving to higher tier manufacturer to achieve better BOM cost and reliable product
Logistic
Lessons learned from my own experience
Session 4 - Investment readiness
Date/time: 6.12.17, 2pm – 6pm
Understanding the start-up funding echo system in U.K.
Institutional investors and the stages they get involved (Micro VC, Seed investment, Series A, B, C)
Issues related to raising investment for hardware startups.
My experience in raising money.
In order to express interest in this block, please send us your details via this page. This does not guarantee your attendance, as you will need to fill out an eligibility form before you can be confirmed.
In order to get the most out of these business support sessions we would advise that you attend all four sessions, but if this is not possible we ask that you commit to a minimum of 12 hours of BOOST support over the next 12 months.