Description
NatWest invites you to this complimentary event hosted by Luv4 Marketing.
Is Your Business Ready And Built For The Digital Age?
Okay, these are bigger business but where are Blockbuster (lost out to Netflix), Virgin (iTunes), Woolworths (Amazon), Local Taxi Firms (Uber) and the list goes on.
If these major businesses can fall then can yours?
Will your Business be able to compete in the Years to come or simply fade away and will you or your team have the skills and knowledge to compete with your competitors?
This isn't as difficult, or as scary as it might appear as it is about having a plan to follow and this event starts you on that plan.
We look at how your business will not only service now, but also grow in the digital age providing you with a continuous flow of leads and customers for now and well into the future.
In this seminar, we will be taking you through the future of Google and the social platforms that will drive your sales with proven online strategies!
As part of this Masterclass, you will also learn how to benefit from a £11,000 government funded digital marketing qualification, receive 3 free gifts just for attending which includes an eLearning course of your choice and have a 90 day marketing plan you believe in!

THIS EVENT WILL TAKE YOUR BUSINESS TO THE NEXT LEVEL
Limited places available. Register Today
We will be speaking on the following topics;-
The Future Of Google Search And The Importance Of Active Search
- Be found. Active search is where people are searching for the products and services you offer
- Understand the impact of type against voice and what Google is really trying to achieve
- You will learn key techniques how to gain those important Page 1 rankings
Understanding Where Your Customers Are In Social Networks & Where They Will Be!
- Learn which platforms are important now and which ones are important for the future
- Understand how to place your adverts and posts in front of your target audience today and learn how to continue to find them in the future
- How to place your quality content in front of your target audience and beat the algorithyms your competitors don't understand
How To Start Building Your Online Presence Now - For The Future!
- Look at how to boost your business to your target audience
- Learn how to get a great future ROI on your online marketing campaigns, building powerful, targeted databases for the future
- Why paid advertising buys you a client now and the future
The Essential Skills & Tactics Needed For The Future Of Your Business
- We will provide many insightful strategies together with tools to keep you ahead in the Digital World.

By attending this complimentary event, you will receive 3 gifts worth £897!
FREE Marketing Audit (RRP £199)
FREE Marketing Strategy Review (RRP £399)
FREE Access to 1 eLearning Course (RRP £299)
Please note that this event is open to all - you don't have to be a NatWest customer to attend.
Reviews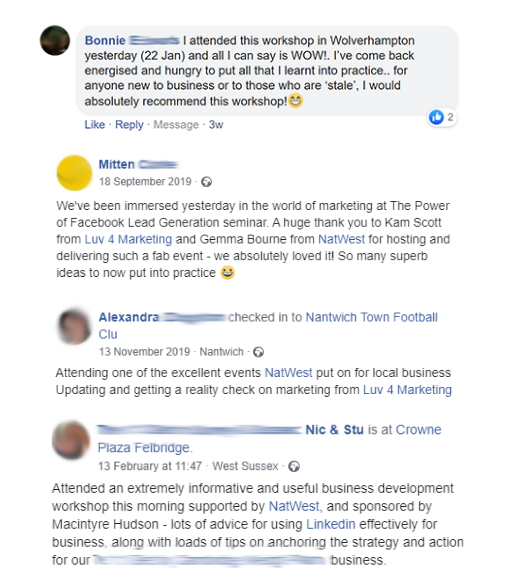 All information used in this presentation you are registering for is produced for information purposes only and is for the sole use of the attendees at the presentation.
Whilst we feel this topic is beneficial to business owners, the views expressed are not intended to be and should not be viewed as individual advice or as a recommendation by RBS, NatWest or any third party. You should seek independent advice in respect of issues that are of concern to you.
To the maximum extent permitted by law we expressly disclaim all representations, warranties, or assurance of any kind, expressed or implied, that are made to the accuracy or completeness of the information contained in this presentation and do not accept any obligation to update or correct any information contained herein.
During the event photographs may be taken on behalf of the host with a view to posting on social media to promote services offered to customers. If you do not wish to be included in the photographs please notify us.
For the avoidance of doubt RBS/NatWest does not produce the materials for all presentations. This disclaimer applies equally to any materials or presentations produced by a third party.
By registering for this event you agree that you have read and expressly agree to the use of your personal data submitted as part of your event registration by Eventbrite in accordance with their: