Event Information
Refund policy
Contact the organiser to request a refund.
Eventbrite's fee is nonrefundable.
A comprehensive class covering everything from kit to technique, bootblack etiquette, D/s elements, high shines, and bootblack community
About this event
Alistair LeatherHiraeth will be your host for this evening. He is the family bootblack for the UK KRueL Leather Family, a leather family with a long history of teaching on the UK scene, and is also serving as European BootBlack 2020 after winning the title in Darklands in Antwerp back in March.
Alistair has been a dominant on the UK scene for 2 decades, but 8 years ago he decided to train formally, and he petitioned @DKLeather to earn his leathers, from the bottom up. He earned his title of Leather Sir in 2018 and was made family. He identifies primarily as a Leather Sir and Daddy, but also has an M/s relationship with DKLeather, the head of the family. Al is passionate about promoting Bootblacking in the UK and across Europe and wants to see bootblacking become as prominent in the UK scene as it is in the USA. He is also fundraising to set up a UK Bootblack title, as part of his title year goals, and will also be competing for the International Mr Bootblack title at IML, International Mr Leather, in Chicago in May 2021. You can read more about Alistair on his website www.getyourhandsdirty.co.uk where you will also find some bootblack resources, videos, and kit ideas. And you can find him on Fetlife under @LeatherHiraeth.
With the support of his Master @DKLeather, and help from @Leathergirlheart, of the Leather Family, and his boy @lillthrpup (formerly Engineer88), Alistair will be dual camming to not only talk you through technique but to also visually guide you through the journey of bootblacking. The evening will run as follows:
Intro: DKLeather and Alistair
Discussion section: 1 hour – Bootblack history and etiquette , and how Bootblacking can be incorporated into D/s relationships
Break: 10 minutes comfort break
Bootblacking: 1hr 30 minutes – covering basic kit, cleaning and conditioning, oil tans, high shines, hot spooning, lacing, wax polish products
Q&A: 30 minutes
DKLeather will be moderating the room and directing questions, with support from Leathergirlheart and lillthrpup
Please bring with you any bootblack products you may have, and a pair of boots. At the least, some wax polish, either a soft cotton rag, a piece of old cotton jersey t-shirt, or flat cotton makeup pads. Bringing boots to work on and a basic kit is not essential but may help you to understand some of the technique being shown. You may wish to take notes, so bring a notepad and pen if you do, but there will be handouts from the session available via email afterwards, giving a concise overview of the material covered in the workshop.
All proceeds from this workshop will go towards Alistair's travel fund to promote bootblacking in the UK and across Europe, and to get him and his Leather family support team to Chicago in November to compete for the IMBB title.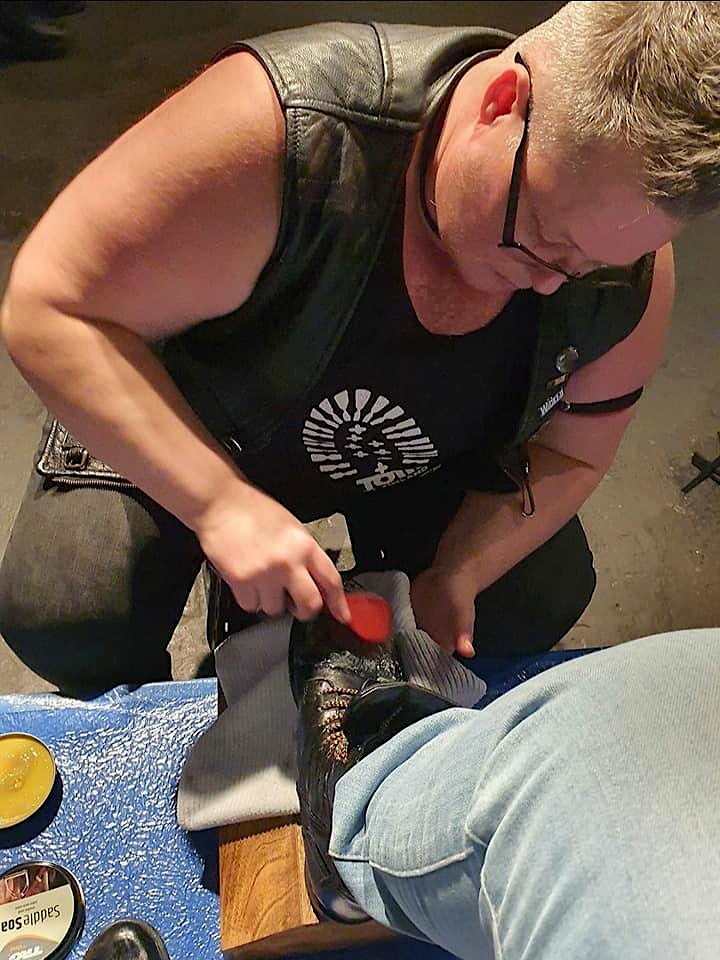 Date and time
Location
Refund policy
Contact the organiser to request a refund.
Eventbrite's fee is nonrefundable.