The only Food & Drink Business Bootcamp where 100% of attendees felt more confident about their success as a result of attending.
About this Event
Are you an ambitious entrepreneur launching a food and drink brand?
Join us at our industry focused one-day bootcamp where you'll hear from a dream team of industry experts who have worked with challenger brands such as innocent, Rude Health, Rebel Kitchen, Pip & Nut & Vita Coco.
Attend this bootcamp to get the trade insights you need to launch in this fiercely competitive industry in the current climate.
Find out...
How to launch a food or drink business
How to make sure that there is a product/market fit and the price is right
How to nail your USP and stand out from the crowd with a clear message
How to develop your products and find a manufacturer
Understand the costs, pitfalls of timescales of manufacturing
How to secure your first listings, what the margin expectations are and how to support a listing
Routes to market and who gets what margin
What the funding options are, how to forecast your sales and how to secure investors if you need them
Live Peer Reviewed Pitching: pitch your brand to your peers, answer questions and test out your elevator pitch
Panel Discussion With Entrepreneurs Who Have Been There & Done It
You'll hear from three successful entrepreneurs who have taken different paths to success, whether that's global domination, selling in major UK supermarkets or flourishing with independents and fine food halls. Ask questions, hear the war stories and be inspired!
This bootcamp runs from 9am to 3:30pm. There is a short lunch break and several 10 minute breaks spaced throughout the day.
Who's attending?
You'll be joined by fellow early-stage food startups who are looking to launch their business with a bang so as well as learning lots of incredibly helpful things, you'll also get to meet entrepreneurs who are going through the same journey.
Would love to attend, but can't make the live broadcast?
If you'd like to benefit from the bootcamp but you can't make some or all of the live broadcast, sign up anyway and receive the full recording after the session has ended. You'll be able to watch back as many times as you need.

What do our previous attendees have to say?
"Fantastic presentations that eased my concerns about the complexities of launching a new company" Avnish B.
"Brilliant workshops – informative, insightful, relevant" Angela C.
"Exactly the type of day I hoped for – smart focused talks, and so much relevant information" Anneka E.
"Exceeded expectations. Tons of useful stuff" Victoria M.
100% of attendees say they are more confident after attending & 100% said that they think their chances of success are better.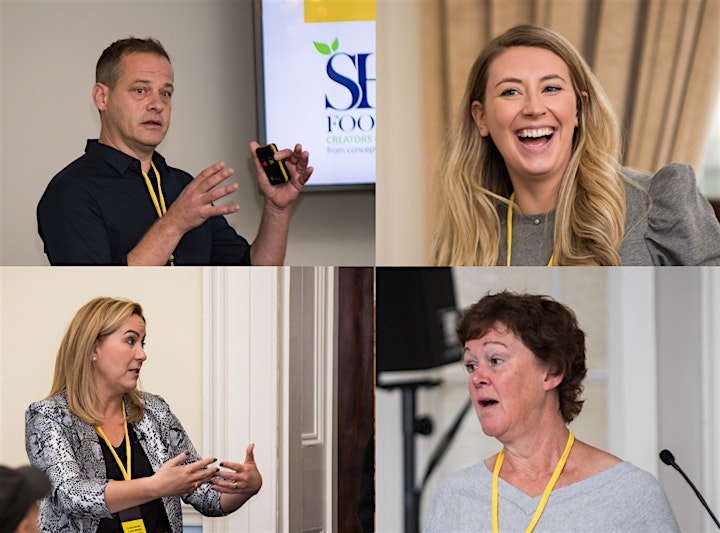 About the Presenters
Tessa Stuart - Tessa works with brands to make sure that their products on the supermarket shelves attract shoppers' attention and are bought (clients include innocent, Rude Health, Pip & Nut and Graze). She interviews customers in-store and her clients use her learnings to adjust packaging, pricing, or (unfamiliar) ingredients, and gauge reaction to new products before they launch.
Claire Brumby - is a coach, mentor and consultant to new and established food businesses nationally and internationally, using experience gained through both founding, growing and exiting her own multi award winning food brand and working with hundreds of food businesses and their founders. She runs workshops and bootcamps on many subjects involved in launching and growing a food business, is a keynote speaker and also a best selling author and business book award finalist with The Winning Mix: launch and grow your food business without selling your soul.
Simon Bishop - Simon is the Co-Founder of S H Foodie, a development agency that helps you begin and map your ongoing journey. He has successfully worked with brands such as Huel, innocent drinks, Shore Seaweed and many more. Simon has a long career in the food and beverage sector working for many of the largest Plc companies in the UK. With extensive manufacturing experience combined with starting his own brand, Simon is well placed to guide your business through starting your journey and giving sound advice for scaling up your product.
Helena Murphy - Helena is co-founder and managing director of Raising Partners - a specialist investment consultancy firm and angel investment syndicate. Raising Partners was created to bring a much needed specialism and expertise to the notoriously hard to crack investment landscape. Working with clients from pre-seed through to Series B to execute funding campaigns and secure equity investment, recent clients include Europe's most innovative BioTech firm Celtic Renewables, award-winning health insurer Equipsme, low-sugar tonic brand TwelveBelow and digital fitness and gym brand, BLOK.

About Bread & Jam
Bread & Jam are the organisers of the UK's biggest food and drink founders' festival. This year's virtual 3-day conference for emerging and scaling food and drink brands, will bring together entrepreneurs, innovators, investors, buyers, media and industry leaders.
There will also be opportunities to pitch your product to buyers from delis, foodhalls (Selfridges, Harrods, Fortnum & Masons), speciality retailers (Whole Foods, Planet Organic, Holland & Barrett), supermarkets (Ocado, Sainsbury's, Tesco, Co-op and Morrisons).
Bread & Jam also run a comprehensive programme of virtual workshops, bootcamps (Amazon, Shopify & Startups), 1-day summits (Plant-Based and D2C coming soon) and their popular free Fortnightly Monday Motivation Panels.