Description
Booze and the Borough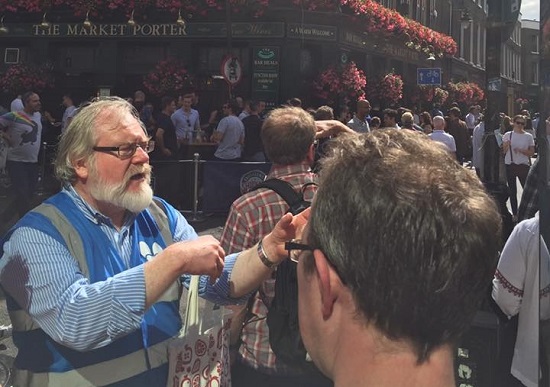 Photo © 2016 Malcolm Johnston – The Market Porter Pub
O for a draught of vintage! that hath been
Cool'd a long age in the deep-delved earth,
Tasting of Flora and the country green,
Dance, and Provençal song, and sunburnt mirth.
John Keats knew how to appreciate his wine. It is with his words that we begin an exploration of the story of booze and the Borough. It finishes with a time when wine was at the heart of English life.
Stroll down Borough High Street where in days past coaches, travellers clutching to their roofs, erupted from narrow entranceways, setting off at first light into Kent. Hop factors and warehouses evoke laden wagons arriving from Kent, Sussex and Surrey.
This tour tells of a graduate with a van and a love for wine, of London's largest brewery, and of a very dangerous umbrella. It celebrates the grain and the grape, and trade both in times past and today.
PLEASE NOTE: this tour may present access issues - please contact the guide before booking if you have access requirements so that they can be accommodated.
Guide tel: 07982 132231.

Meet outside the Guy's Chapel in the courtyard of Guy's Hospital, St Thomas Street. The walk will take approximately 2 hours, and finishes by the Borough High Street entrance to London Bridge Underground Station.
For information on travel, please use Transport for London's Journey Planner.