Bordeaux Meditation Retreat

Wednesday, 16 September 2015 at 13:00

-

Saturday, 19 September 2015 at 16:00 (CEST)
Event Details
This farmhouse retreat space is nestled amidst vast open countryside with stunning walks, horse-riding and river swimming nearby.
The owners are ex award winning British restaurateurs who cater onsite and have lovingly renovated and developed the outer barns into stunning, stylish and spacious accommodation and meditation space purpose designed for retreats and workshops.
The guest accommodation is all in beautifully fitted twin rooms ( sharing ) with en-suite bathrooms. Full board catering is first class, and looks after specialist dietary requirements. In the grounds there is a sun drenched decked area by the salt water pool, and the permanent shade of a mature lime tree.
£470 per person 
The Workshops & Modern Meditation techniques will be taught over 4 days to include:
The science of stress and its reversible effects on your brain and body
The science of the Mind-Body Connection and the power of the Relaxation Response - How cultivating a meditation habit can reverse the effects of stress and allow your body the deep, physiological rest it needs to stay well and repair
Understanding what your mind 'is', and that you are much more than your mind, which is just a small aspect of your experience
Understanding what meditation is ( and what it is NOT ) and how re-training your attention changes your brain, in order to begin experiencing change
The insights at the heart of the contemporary and best selling technique: Mind CALM which will help you form a new perspective on, and a new relationship with your mind
5 Mind CALM Techniques to help you break your automatic 'default' settings, and begin operating from a more powerful, effective and CALM mindset
The Mind CALM 3 Step Meditation Methods for 'eyes closed' meditation
Ten Mind CALM Meditation Sittings for up to 30 minutes at a time
Two 30 minute guided Mind CALM Group Meditations
Mind CALM 
This is a modern and simple meditation technique which is being enjoyed and endorsed by many busy people with busy minds, who want to find the 'off switch', tune in to their own inner calm at any time, and re-wire their brains for less stress, better sleep, more confidence and improved productivity and focus. Perfect for inexperienced or established meditators alike, this course includes fascinating insights into the mechanics of your mind, and how it gets in your way, as well as plenty of practice time meditating in a group in this perfect poolside setting. Mind CALM was created by award winning Trainer, Speaker, multi Best Selling Author and highly acclaimed Meditation Teacher Sandy C. Newbigging - Your Retreat Leader Lisa Bardell has been personally trained by Sandy, as and Accredited Mind CALM Meditation Coach, Trainer and Coach Trainer.
Additional Complementary Therapies:
Reflexology
Thai Massage
Swiss Massage
All above are at additional cost
Additional Activities in the local area:
Hiking
Horse-riding
River swimming at Aubeterre-sur-Dronne
City trip to Bordeaux ( 1 hr away )
If you have any unanswered questions, mail on info@lisabardellcoaching.co.uk
CLIENT TESTIMONIAL EXCERPTS.....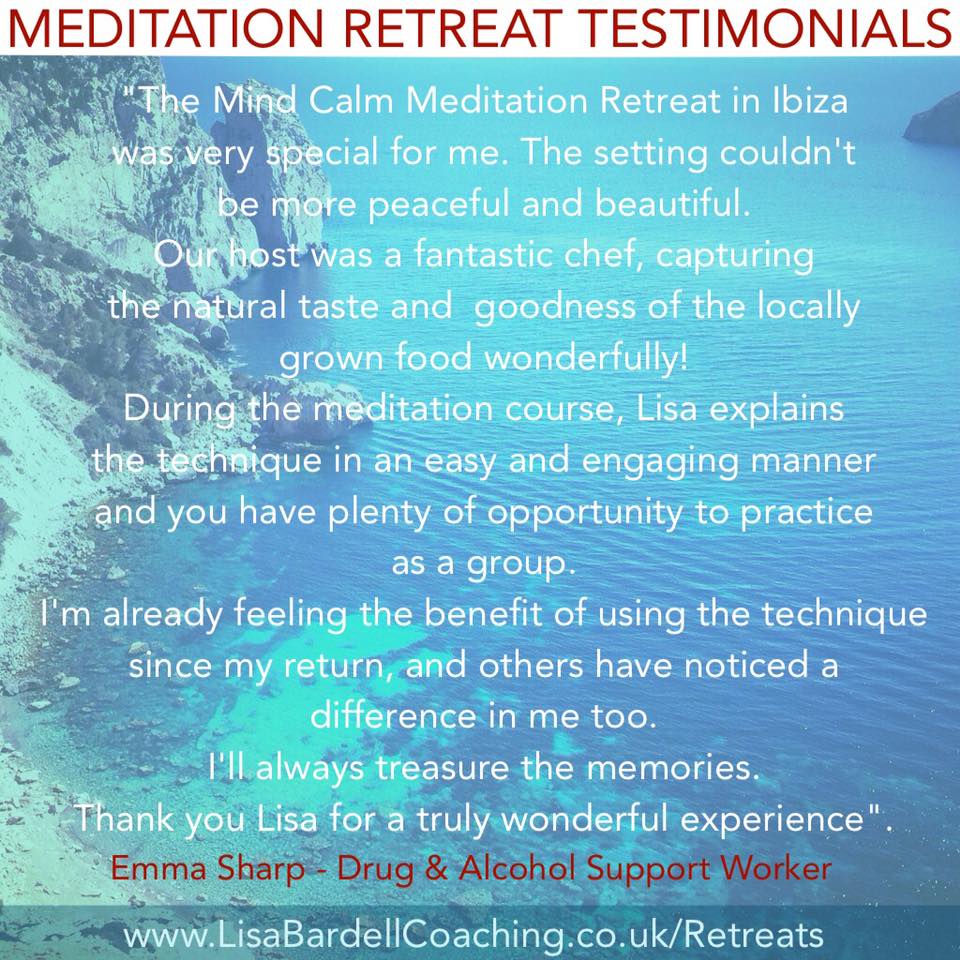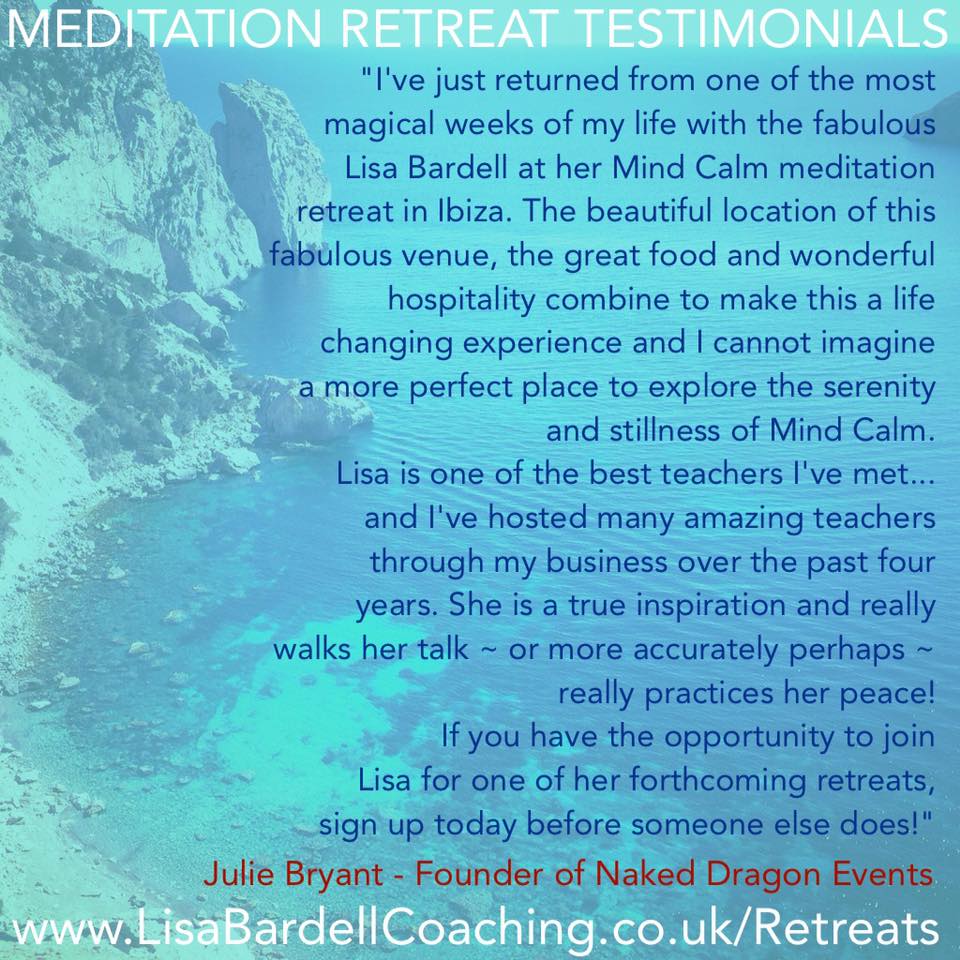 "Lisa I'm not exaggerating when I say I have never experienced such a tangible, profound and focused inner experience as that achieved through your workshop. I was rendered serene, speechless and awed, not only by the experience, but by it's simplicity. You are undoubtably an excellent coach and have inspired me"
"Thank you for an utterly mind blowing workshop Lisa. Everything resonated with me, and you explained it all so well. It was like a light bulb moment"
"I really enjoyed the Mind Calm workshop and it totally exceeded my expectations. I loved it! Lisa was inspiring throughout, completely compelling and easy to listen to"
"I felt eased in to Mind Calm. Lisa answered all our questions in a way we could understand, and made meditation achievable, as it should be. I came away feeling so positive and excited. This is life changing. Thank you Lisa"
"Mind Calm has helped me experience a calmness I had never felt before. I didn't even know this kind of calm existed. Best of all I know I can tap in to it any time I want. I highly recommend Lisa as a coach and trainer"
"I struggled with stress for most of my life. Mind Calm brought a calm restfulness. I'm more assertive, and I highly recommend Mind Calm coaching with Lisa. It is life changing"
"I am less anxious. I no longer feel stress. I sleep well. Friends and family have noticed a difference"
"The workshop totally exceeded my expectations. The whole day was engaging. You made everything so clear. I really get it. Mind Calm is the way forward"
"Mind Calm is the first type of meditation I really love doing. I felt the benefits immediately and know I will use this amazing tool for life"
"Thank you for an amazing workshop and for introducing me to a simple yet effective life changing technique. The day was fun and inspiring"
"If you're looking for a simple and effective meditation technique, taught in a down to earth, easy to understand way, then choose a Mind Calm workshop with Lisa Bardell. I have noticed I'm behaving more resourcefully in challenging situations, and thinking more creatively, all without trying. Highly recommended"
"What a great workshop! I was engaged the whole time. Lisa is a great speaker and makes everyone feel comfortable, I can't wait til the next one"
"Mind Calm has given me the energy I need. I feel healthy again, I'm sleeping at night and have inner strength. The profoud techniques used in Lisa's coaching have given me practical, effective tools I can use to support myself"
"The technique we learnt on the day was so simple yet so effective. I feel more grounded in the here and now, more accepting. I'm more organised because I can think more clearly, I worry less and sleep better"
"Lisa the workshop was great, your passion shines through and inspires confidence and trust"
"Lisa explained everything in such a way, it's the first time I've been truly in the zone"
"I feel so different in myself, and can only recommend this. I feel calm and collected and this has given me so much more than anything I've ever tried before. I have learnt a technique which will allow me to reach my full potential"
"Mind CALM can instil total calm" Kirsty - Stoke
"This was an extremely relaxed and friendly workshop, Lisa put everyone at ease" Heidi - Cheshire
"Mind Calm is a technique for immediate calm, it worked straight away for everyone in the group" Rose - Newcastle
"This makes meditation so much easier, I've struggled before. This was so enjoyable I will definitely be able to stick with this" Dean - Cheshire

"I've learnt I can feel peaceful even with my life being chaotic like it is at the moment" Sarah - Birmingham
"Brilliant workshop, I really enjoyed it. I understand how this will be of value to me, I admit I was sceptical before" Rob - London
"What a professional and engaging workshop. The material provides an extremely useful way of thinking and approaching life" Susan - Cheshire
"Very professional, yet informal and good fun. Inspiring delivery and very clear" Barbara - Stoke
"A fantastic workshop. It was really clear, great structure, well presented and very interesting too. I'm excited to apply the techniques in my daily life" Lisa - Manchester
When & Where

The French Retreat
La Loge
Poitou-Charentes
16210 Yviers Yviers
France


Wednesday, 16 September 2015 at 13:00

-

Saturday, 19 September 2015 at 16:00 (CEST)
Add to my calendar
Organiser
Lisa Bardell is an accredited Clinical Hypnotherapist, NLP Master, Executive Coach, Life Coach and creator of The SHINE Meditation & Coaching Program - she is also the Damsels in Success director for the Manchester group coaching community.
Lisa's book Shine Brighter, The 10 Essential Mindset Shifts for Less Stress and More Success will be avaialble on Amazon in summer 2017
Lisa offers...
Integrative Therapy & Coaching sessions from private practices in London & Cheshire
Regular SHINE Meditation & Personal Development Workshops all over the UK
The SHINE Program in an online training
Retreats & VIP Coaching days in the UK

Executive Coaching

Meditation Retreats in beautiful settings in Bordeaux & Ibiza
Group Coaching for Soulful Women through the Damsels in Success Membership Program
Information & Enquiries:
E-mail - info@lisabardellcoaching.co.uk
Telephone - 44 (0) 7977 121260
Website - www.lisabardellcoaching.co.uk