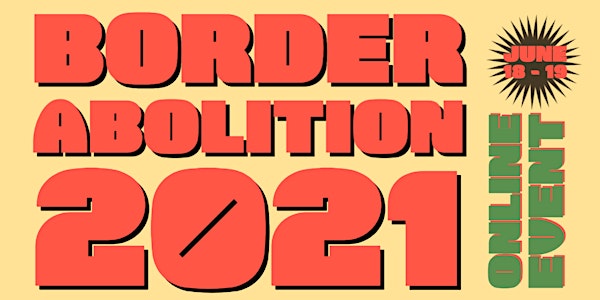 Border Abolition 2021 Conference
Refund policy
Contact the organizer to request a refund.
Eventbrite's fee is nonrefundable.
Two-day event connecting organising, campaigning, activist research and academia on border violence, racism, incarceration and abolition.
About this event
Border Abolition 2021 will bring together people struggling against borders in all their forms, from immigration detention, prison and militarised border sites, to the solidarity practices that resist expanding systems of everyday bordering. We see this work as also envisioning the creation of systems of care, safety and support that many of our communities lack. In a current moment in which borders and punitive violence seem to be growing and entrenching, it is more important than ever to formulate an abolitionism that looks at migration not as a stand-alone field but, rather, in connection with heterogeneous struggles against racialising bordering mechanisms, drawing connections between different forms of containment, detention and exploitation that are often invisibilized or discussed separately. You can find full details about the event on our website.
Border Abolition 2021 is generously supported by the CHASE Doctoral Training Partnership, MSCA (Marie Skłodowska-Curie Actions Fellowship), AnthroMob (Anthropology and Mobility Network) and EASA (European Association of Social Anthropologists).
Access to the sessions is free, with an option to donate to the 'Attendee Access Pot' which will be used to pay for childcare and other costs for attendees.
For each session live captioning will be available (subtitles), and where possible post-conference materials will be translated.
If you have a particular access need, you can indicate this in the registration form. See more details on our accessibility page.
If you require funds from the 'Attendee Access Pot' to pay for childcare or other costs that enable you to attend this online conference, please indicate this in the registration form.
All attendees should see the Safer Spaces Guide before attending the event, which includes a statement on the event organising and a set of suggested commitments we can all make in order to build a positive shared space at the conference.
Conference Schedule (GMT)
Here is the order of sessions which will run online across Friday and Saturday (18th-19th June). Links to access the sessions will be emailed to all registered attendees on Thursday 17th June with info on how to join.
Friday 18th June
9:00 AM - 10:00 AM: Opening Remarks. With Luke De Noronha, Gracie Mae Bradley and Bridget Anderson.
[parallel] 10:15 AM - 11:45 AM: Against the Academic-Industrial-Complex: Workshop with URBC (Uni's Resist Border Controls)
[parallel] 10:15 AM - 11:45 AM: Direct Action: Workshop with Abolish Frontex
12:00 PM - 13:30 PM: 'Technologies of Containment, Data Extraction and Displacement: Forging Abolitionist Tools.' With Migreurop, David Suber, Lauren Cape-Davenhill, Ara Ortiz, Carolina Sanchez Boe, and discussant: Martina Tazzioli. Hosted by Carolina Sanchez Boe and Martina Tazzioli,
14:30 PM - 16:00 PM: Situating Border Abolition Across Contexts and Struggles. With Kathryn Cassidy (Northumbria University), Josue David Cisneros (University of Illinois at Urbana-Champaign), Anna Finiguerra (Queen Mary University of London), Josiah Heyman (University of Texas at El Paso), Arianna Introna (Independent Researcher), Brian Whitener (University of South Alabama). Hosted by Sara Riva, Stefan Millar, Ville Laakkonen and Lena Karamanidou.
16:15 PM - 17:45 PM: 'Feminist Strategies and Practices of Border Abolition'. With Ellie Shakiba (Searching for Aramsayesh), Sarah Hopwood (Abolish Detention Hassockfield), Leah Cowan, Myrto Tsillimpounidi & Anna Carastathis (Feminist Autonomous Centre for Research ), Aminata Kalokoh & Francesca Esposito, Vania Martins. Hosted by Sarah Hopwood, Francesca Esposito and Vania Martins.
18:00 PM - 19:30 PM: 'Practising Solidarity for Border Abolition'. With Harsha Walia, Philis Andrew (SYMAAG), Rex Osa (Refugees 4 Refugees), Lamine Sarr (Sindicato de Manteros) and Ettore Asoni. Chaired by Tom Kemp (SOAS Detainee Support/ Abolitionist Futures). Organised by Helen Brewer, Tom Kemp and Ana Santamarina.
Saturday, 19th June
9:00 AM - 10:30 AM: 'Documenting Border Violence.' With Arshad Isakjee, Karolina Augustova, Sasha Hajzler (InfoKolpa), Emina Bužinkić (Transbalkanska Solidarnost), Watch the Med Alarm Phone, Kashef (Abolish Frontex), Teodora Jovanović & Bojan Mucko, Phevos Kororos Simeonidis (Disinfaux Collective). Hosted by Chloe M. Powers & Simon Campbell from the Border Violence Monitoring Network (BVMN).
11:00 AM - 12:30 PM: 'State Racism, Racial Capitalism and the Border'. With Tit Stark (Infokolpa), Francesco Marchi, Neske Baerwaldt, Lauren Martin, Elsa Tyszler and Smina Akhtar. Hosted by Smina Akhtar, Sophia Hoffinger and Joel White.
13:30 PM - 15:00 PM: 'No Borders, Many Histories'. A conversation with Radhika Mongia, Gargi Bhattacharyya and Muhammed Idrish putting the West Midlands Anti-Deportation Group (1980s - 1990s) in a historical perspective and a global frame. Hosted by Kathryn Medien, Phe Amis, Anish Chhibber and Joel White.
15:30 PM - 17:00 PM: Workshop with SWARM (Sex Worker Advocacy Resistance Movement)
17:30 PM - 19:00 PM: 'Global Borders: Climate Violence, Financial Extortion and Imperial Exchange.' With Nandita Sharma, Divya Sharma and Freedom Mazwi. Hosted by James Trafford, Max Ajl and Out of the Woods Collective.
19:15 PM - 20:15 PM: Closing Remarks with Bridget Anderson and Nandita Sharma.
If you have any questions or things you think the team can assist with, please write to us at borderabolition@gmail.com. Please let us know if you require BSL or other sign language interpretation.