Description
Born to Rewild!
Guest lecture from Professor Alastair Driver, Honorary Professor in Applied Environmental Management
Date: Tuesday 22 May 2018
Time: 19:30 - 20:30
Venue: Forum Alumni Auditorium, Stocker Road, University of Exeter, Streatham Campus, EX4 4SZ
Event Information
Alastair Driver is an Honorary Professor in Applied Environmental Management at the University of Exeter and is well-known in UK conservation circles. He started his career as a river corridor surveyor for the Gloucestershire Wildlife Trust in 1978 and became the first conservationist responsible for conservation of the waterways and wetlands in the Thames catchment in 1984, before going on to become the Head of Conservation for the Environment Agency from 2002-2016. Working as an independent, he now has many roles including acting as a Specialist Advisor in a professional capacity for Rewilding Britain and Arup, and pro bono for many organisations including No 10 and the National Trust.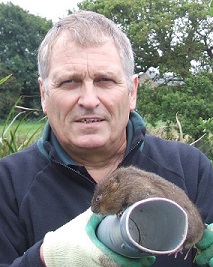 In this lecture Alastair will briefly explore the roots of rewilding in his own career and will go on to explain his definition and the merits of the often contentious word "rewilding". He will also bust a few myths of what rewilding in Britain is in reality and what it is not, and very importantly explain how it can work economically. All of this will be set against his strongly held belief that traditional nature reserve/protected site conservation on its own is not enough to reverse the decline in biodiversity in the UK and therefore something significantly new and different is required in addition – and that something is rewilding. He will illustrate his presentation with past and present examples of major habitat restoration work which he has been involved with, and will explain why he is now focussing on a few carefully selected locations in England and Wales through his work with Rewilding Britain to make the rewilding dream a reality.
Following the presentation, Alastair will be glad to take questions.
Programme
19.30 - Introduction from Professor Richard Brazier, Professor of Earth Surface Processes, University of Exeter
19.35 - Guest lecture from Professor Alastair Driver, Born to Rewild!
20.15 - Questions and answer session followed by vote of thanks
20.30 - Close
Venue
Alumni Auditorium, The Forum, Streatham Campus
Please visit this page for directions.
Registration and Contact
Please register using this web page. If you have any questions about this event please contact research-events@exeter.ac.uk.