Boscombe Bound Animation and Optional Live Behind the Scenes Chat
Watch the animated short 'Boscombe Bound', and then join us live online where we'll be talking about the creation process!
About this event
Created through lockdown and inspired by experiences in the seaside town of Boscombe, Dorset, 'Boscombe Bound' shares voices of the community, evoking the unique sense of this location and time.
Grab a ticket and watch the animated short online in your own time, and then join director and animator Corrianna Clarke in conversation with Laura Mulhern (founder of Storiie and PLAN MAKE DO), for a live Zoom on Thursday 8th April at 7.00pm GMT. Corrianna and Laura will be chatting about the research and creation process, sharing sketchbooks and behind the scenes artwork whilst taking questions and having a laugh!
A Vimeo link for the full animation to watch at your convenience as well as a separate Zoom link for the event will be provided in confirmation emails after you've registered.
"This very particular moment of our shared history has been captured in a very human way. Full of care, sensitive observation and quiet contemplation." – Jasmine O'Hare, the Arts Development Company.
This project has been commissioned by The Arts Development Company with funding from Arts Council England.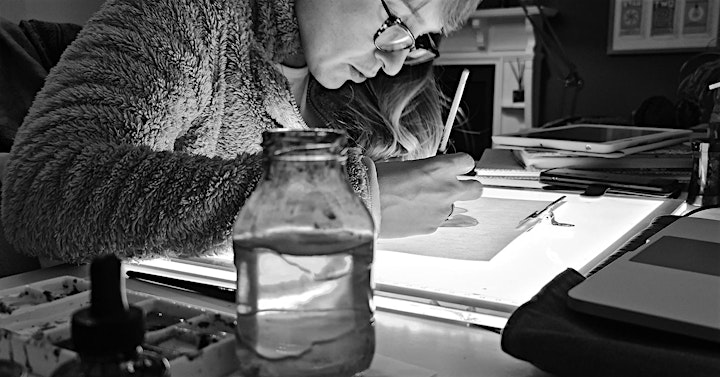 Organiser of Boscombe Bound Animation and Optional Live Behind the Scenes Chat
My name is Corrianna, and I'm a freelance Animator and Illustrator based in the UK, with a love of ink and moving image. (And chips.)
Themes of female empowerment, the natural world, mental health and sexuality are my main interest. My hope is to tell stories around these subjects with sensitivity, using humour and relatability to encourage thought and discussion.
I'm really excited about the potential of 2D animation, and how collaboration can lead us to grow and create wonderful and unexpected things.
Let's start the conversation!