Sales Have Ended
Registrations are closed
Ahoy there! You are now officially registered for the BOSS National Sikh Society day. We look forward to seeing your bright and eager faces on the day - don't be late!
Sales Have Ended
Registrations are closed
Ahoy there! You are now officially registered for the BOSS National Sikh Society day. We look forward to seeing your bright and eager faces on the day - don't be late!
BOSS National Sikh Soc Day 2021 Online training for Sikh societies - Saturday 18th September from 2pm
About this event
The 7th annual BOSS National Sikh Soc Day has been carefully crafted to empower, unite and excite Sikh students from across the UK. Our online extravaganza will equip you with the skills, energy and enthusiasm to go on to power through the academic year ahead!
This year, with uncertainty still in the air, our workshops, and activities have been specifically designed to help you to serve your college/university community with confidence. There will be discussions on the wider role we all play and plenty of opportunities to network with like-minded and supportive students to create new & exciting ideas for your Sikh societies.
The session will run on the afternoon of Saturday 18th September with plenty going on to keep you engaged and involved!
The training is FREE but sign up today as spaces are strictly limited. Registration will close on 17th September 2021.
FAQs
Where can I contact the organiser with any questions?
You can get in touch with us by ringing or texting us on: 07935 900 546
Alternatively, email us at info@boss-uk.org or send us a message via our social media channels
What can I expect to do on the day?
This event is designed to get like-minded Sikh students from across the country together to enable and empower you in running a strong and successful Sikh society at your university for the academic year ahead.  We will send you a timetable for the day so you know what to expect.
As this year's event is online we will send you the details for how to join the training in advance via email.
Be ready to engage and apply yourself - there will be a lot covered on the day and hopefully lots of useful information to take back with you to implement into your local Sikh Soc.  
I'm not sure if this event is suitable for me. Can I still attend? 
The sessions are aimed at any Sikhs who are studying in further or higher education or are helping to run a local Sikh Society group. In previous years we have found that the societies that attend with the majority from their group benefit the most, so it definitely pays to drag as many of your friends along as possible. The more the merrier! If you are part of a Sikh Society we would recommend at a minimum 3-4 members of your committee attend. If you are not on a committee but are interested in doing seva then we'd love for you to attend! There is something for everyone to take away from the day. 
Do I need to have anything with me?
As the event is online this year you will need your laptop/tablet/internet -enabled device. We would recommend you have a notepad and pen to jot down any ideas or interesting facts you hear over the day. We need you to bring your best ideas and views with you. Be ready to engage with us and everyone around you to get the most out of NSSDay for your Sikh Soc.  
I have a specific question I wish to talk to you about?
We know some of you are keen to speak to us about individual events or issues you may have at your Sikh soc. We are just as keen to help you with them! Come and speak to us at the event and we can help advise and support you on anything you might want to know.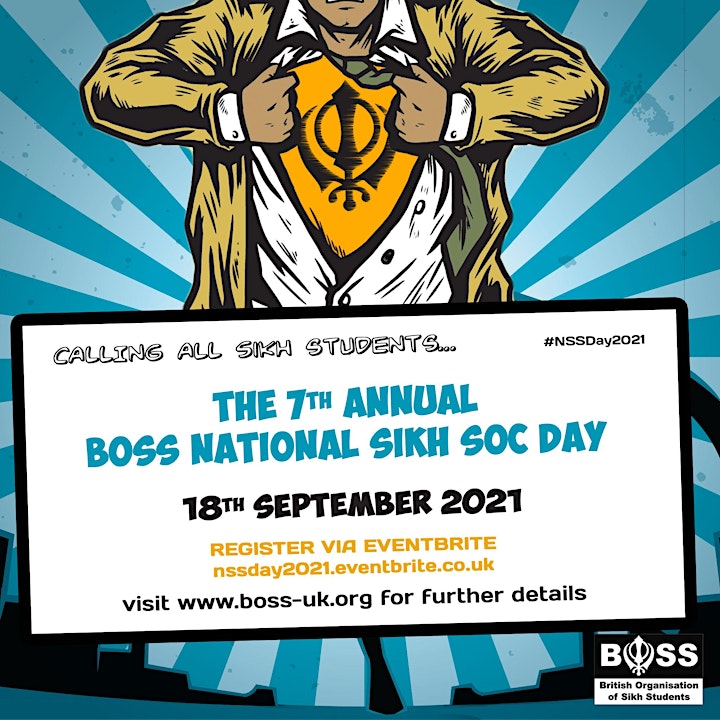 Organiser of BOSS National Sikh Societies Day 2021
The British Organisation of Sikh Students (BOSS) is a national umbrella organisation that links with over 50 university and college Sikh societies across the UK. Established in 1992, BOSS strives to empower and encourage young Sikhs at a grassroots level to rediscover their roots and grow into socially and politically motivated social reformers.
BOSS supports student Sikh societies through consultation, visits, training and providing extensive resources. We distribute over 10,000 introductory packs each year across the UK and abroad.
BOSS works closely with several other Sikh organisations both in the UK and abroad. We pride ourselves on providing a crucial link between Sikh Students and other sections of the community.