Description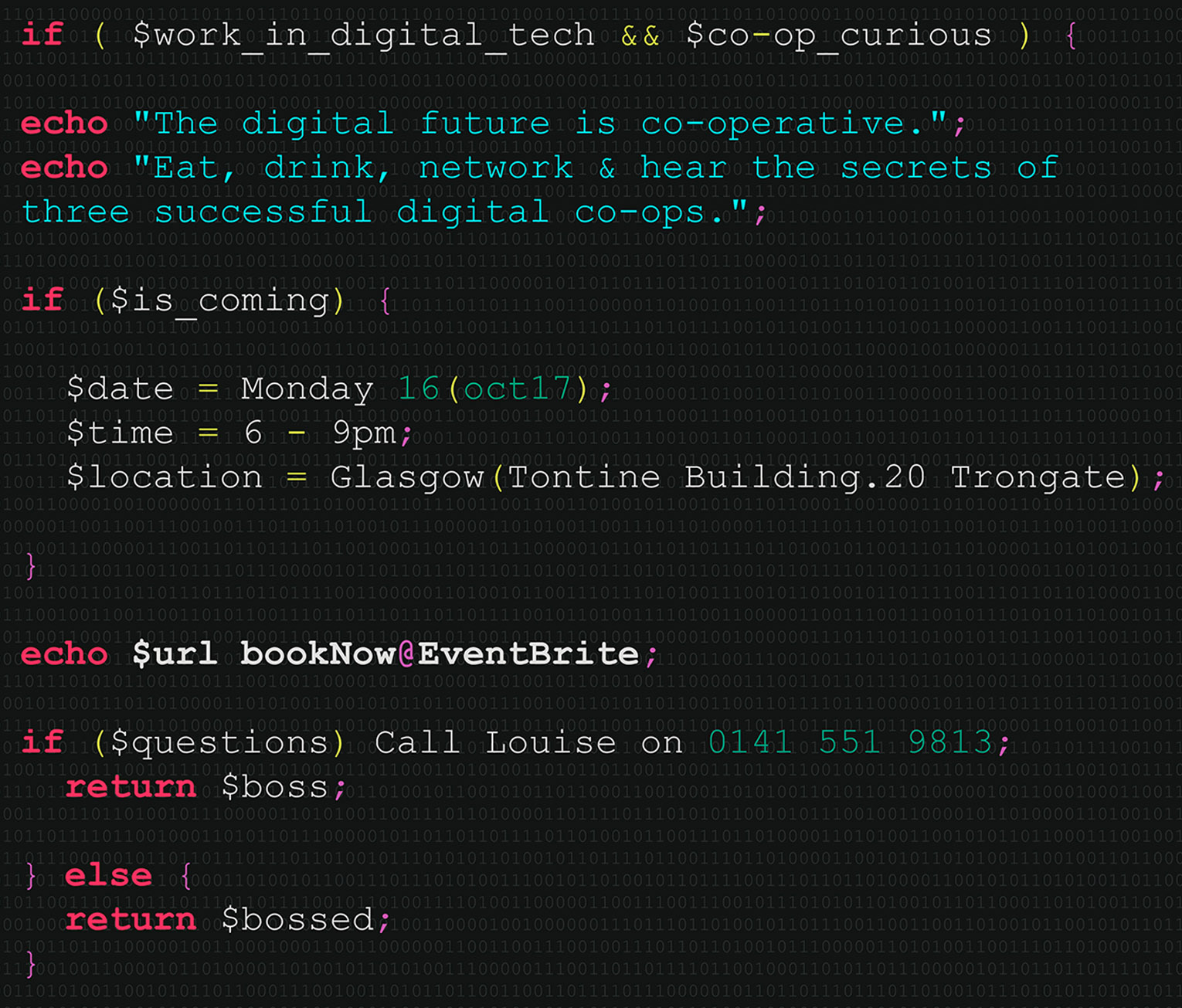 Working in digital or tech? Co-op curious?
If you think co-ops are all food and funerals – think again.
The digital future is … co-operative.
media co-op invites you to the first ever meet-up for co-operative digital, software and tech companies in Scotland. Find out how co-operative business can make good profits and change the world.
Open to anyone working in digital, software or tech who's co-op curious.
If your phenomenal creative and technical skills are being channelled into the design of one button - and someone else's profits - there is another way.
Whether your business has been going for a while or is just a distant dream, come and join us
Eat, drink, network and hear the secrets of speakers from three successful independent digital co-ops, sharing their passion for equal ownership.
Your chance to find out:
Why co-ops are a brilliant start-up business model

How everyone in a company can be a shareholder and owner, earning not just the glory but also the profits

Why co-op businesses are at the vanguard of equality and democracy

How co-ops survive economic downturns better than limited companies

Why the culture of co-ops is a perfect fit for software development and design teams

Why co-ops have more fun
Ed Russell describes himself as a talkative geek. Ed is CEO and one of the founders of Co-operative Web, a successful co-operative business specialising in software development in PHP .NET and Java. His mission is to help people understand what can be achieved by technology and he's passionate about doing things in an ethical way. He has bee involved in setting up a number of co-operative businesses and in 2016 he helped launch GivePenny, a new take on charity giving platforms, offering fundraisers more tools to create interesting and engaging challenges and allowing donors many more options to sponsor the fundraisers.
Laura Dougan is the coordinator of chaos (aka digital project manager) at graphics.coop, one of Scotland's oldest worker co-operatives. From project scoping to production to post-launch, she thrives on making the development of digital ecosystems a fun and inspiring process for clients and co-workers alike. With over ten years experience working freelance and 'normally' across the public, private and third sectors, Laura loves the creative, supportive, unique environment of the co-operative set-up she joined.
Anarcho-communist and erstwhile coder Harry Robbins left BBC Innovation to start Outlandish in 2010. The mission was simple - to build websites and data systems in a better, fairer way. Over the next five years Outlandish has built major web-based applications for clients including the BBC, British Council, Goethe Institute and NOW: Pensions. Throughout this time Outlandish adopted sociocracy, employee ownership, co-budgeting and non-hierarchical management. Harry helped start Co-operative Technologists in 2016 to spread the co-operative model in the tech industry and help others make successful, fair and progressive businesses. The network is growing rapidly and now includes 26 member co-ops containing ~150 people with a turnover of over €6m.
Event hosted by multi-award-winning, Glasgow-based media co-op in partnership with CoTech, Outlandish, Co-operative Web and graphics coop.
Questions? Call Louise at media co-op 0141 551 9813.