BOTA Congress 2021: Medical Student Course (In-Person)
Sales Have Ended
Ticket sales have ended
Thank you for registering for the BOTA In-Congress Medical Student Course - we look forward to seeing you on the day! If you have any questions about the course, please email student@bota.org.uk
Sales Have Ended
Ticket sales have ended
Thank you for registering for the BOTA In-Congress Medical Student Course - we look forward to seeing you on the day! If you have any questions about the course, please email student@bota.org.uk
BOTA Congress: Medical Student Course 2021 · Limited In-Person Places Available! (40)
About this event
BOTA Medical Student Course 2021
Venue: Royal College of Surgeons, Edinburgh
Date: Wednesday 7th July 2021, 9am - 5pm
This event is for Medical Student Course bookings ONLY. Full details and tickets for the BOTA Virtual Congress 2021 including the in-person ST3 Bootcamp and Postgraduate Orthopaedics FRCS Viva Course can be found on our website: www.bota.org.uk/congress-2021
The British Orthopaedic Trainees' Association is excited to announce and open bookings for our 'In-Congress' Medical Student Course!!
Alongside our virtual sessions, we have designed this in-person course specifically aimed at medical students. Whether you're looking to find out what life as a T&O trainee/surgeon is like, or you just want to get hands on in our afternoon practical workshops - we invite medical students nationwide to join us for a day of orthopaedic filled fun and cement your desire to pursue this fantastic specialty!
Sessions include:
Career Talks
CV Building Talks
Portfolio Workshop + Q&A
ATLS for Medical Students
Basic Principles of Fracture Management
Case Based Discussions (Proximal Femoral , Distal Radius & Open Fractures)
+ Unrivalled Networking Opportunities
+ BOTA Medical Student Rep 2021/22 Elections
+ Certificates of Attendance (upon completion of feedback)
SEE BELOW FOR FULL PROGRAMME!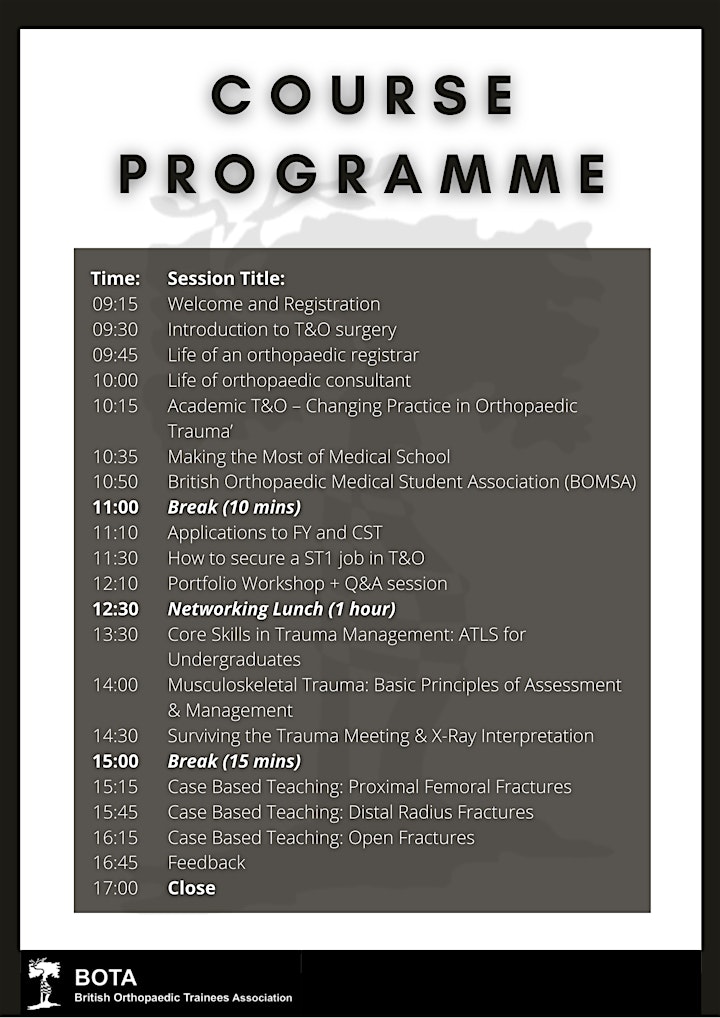 --------
Limited In-Person Spaces Available (40) - Course bookings will be on a first-come first-serve basis. If oversubscribed, a waiting list will be kept and delegates will be informed of any cancellations.
FREE for BOTA/BOA Members: Please note that £10 for General Admission is a deposit and will be refunded upon attendance for BOA/BOTA medical student members. Please note that we shall be verifying active membership status on registration.
--------
If you have any questions about the course, please contact Shiv Kolhe - BOTA Medical Student Representative (student@bota.org.uk)
Organiser of BOTA Congress 2021: Medical Student Course (In-Person)
BOTA Virtual Congress 2021 - BOOKINGS NOW OPEN!!
BOTA Medical Student Course, ST3 Bootcamp and Postgraduate Orthopaedics FRCS Viva Course will be held IN-PERSON (limited spaces available) - further details can be found on our website: www.bota.org.uk/congress-2021