Botanical University Challenge 2022 – the future of botany is here!
About this event
Come online and watch the final of Botanical University Challenge as eight teams compete to answer questions about the fascinating worlds of botany and plant science in this popular contest invented by Dr John Warren and Dr Jonathan Mitchley which has been running since 2016.
The contest is sponsored by the New Phytologist Foundation and on February 16th we witnessed teams from eighteen different institutions competing in an elimination pub-quiz style event chaired by Honor Prentice (Lund University, Sweden) & Chris Thorogood (Oxford Botanical Garden and Arboretum).
In a close-run contest the eight top-scoring teams were:
Cambridge**, Manchester*, Sutton-Bonington, Liverpool, Open University, Durham*, Manchester Metropolitan***, and Royal Horticultural Society*
(* = competing in BUC for the first time, ** last year's runner's-up, *** = last years champions).
These eight plantastic teams will return on Wednesday February 23rd 2-6 pm to compete in the dramatic quarter-final, semi-final and final rounds and chaired by Sandy Knapp (NHM London), Lena Struwe (Chrysler Herbarium, Rutgers University) and Raj Whitlock (Liverpool University).
Get the date - 23rd February - in your diaries and join us for the live stream of this fun, educational event celebrating plants - our green heroes !
Both events (16th and 23rd February) will be available on our BUC2022 YouTube channel after the event , but for top botanical excitement do your best to join us for the live streaming!
Previous contestants have had a botanical ball at Botanical University Challenge, here are some of their highlights:
"Was just super fun to be part of a plant-centric quiz!"
"Really enjoyed all aspects of questions, was FANTASTIC being in company of such talented botanists and to be reassured the subject area is as vibrant as ever."
"Watching the live-stream and sharing it with friends and family so we could answer questions together."
"Developing my botanical knowledge, exciting to be part of the quiz, love the t-shirt!"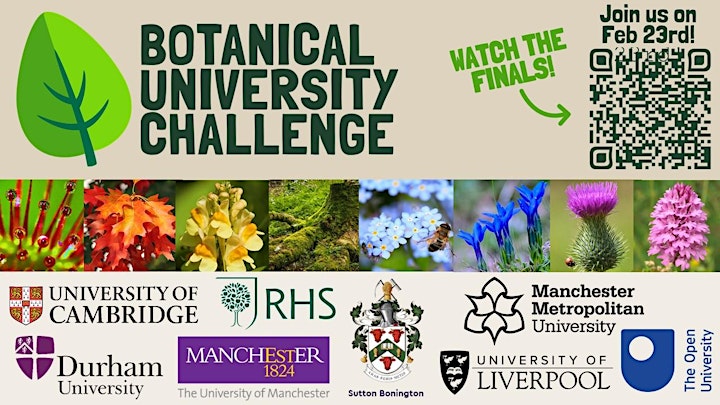 The eight finalists competing on Wednesday 23rd February to become the BUC2022 champions!