About this Event
All-you-can-eat Buffalo and BBQ wings, just keep ordering from our menu for fresh cooked-to-order wings, served with celery sticks and homemade blue cheese dip.
Enjoy bottomless wings between 18:00 and 21:00 (last orders at 20:45). Wings will be served to your table in portions of 10-wings at a time (per ticket holder) and you can order as many as you want over the course of the evening. All we ask is that you eat what you have before reciving another platter.
We will also have a rage of side-dishes to accompany our wings such as Fries, Onion Rings, Slaw and Mac 'n' Cheese available to order for a supplement.
Thirsty? We will have a range of drinks offers available at the bar throughout the evening featuring pitchers of beer, American bourbon whiskey and a range of soft-drinks for our responsible designated drivers.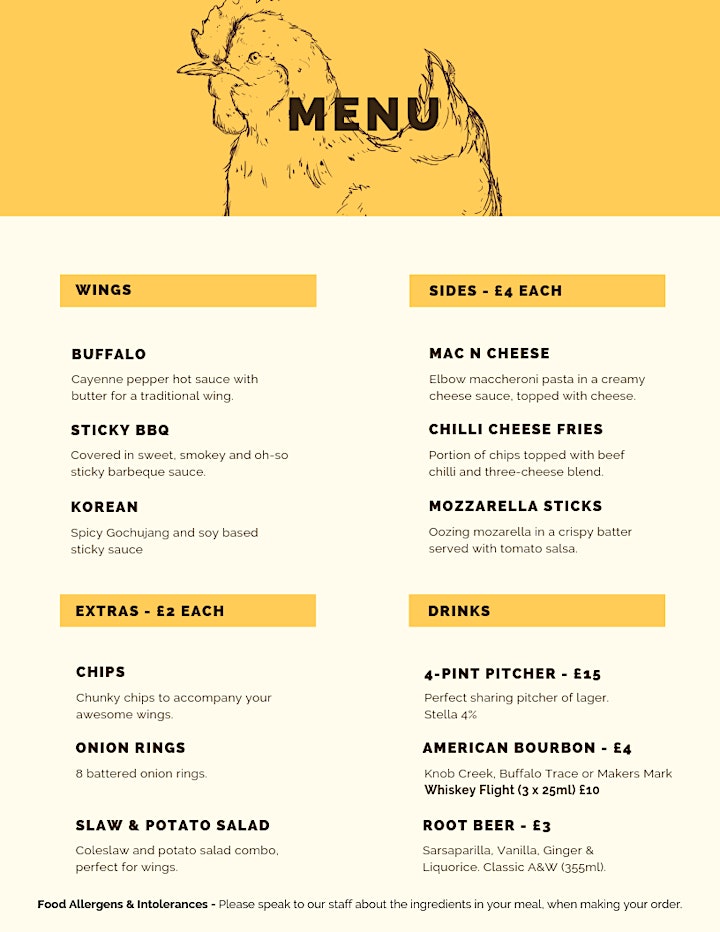 Frequently Asked Questions (FAQs)
Whats included with my ticket?
Unlimited wings! Between 18:00 and 21:00 you can enjoy our bottomless BBQ and Buffalo wings served with celery sticks and blue cheese dip. Side dishes and drinks are not included and we ask that you pay for these direct at the bar. Service charge is not included, however if you want to leave a tip then our team would be greatly appreciative. 100% of all tips are kept by the server.
Is it really unlimited chicken wings?
Yes - there are always T's & C's but... between the service hours of 18:00 and 21:00 we invite you to enjoy our buffalo and/or BBQ chicken wings. We will keep replenishing your plate with 10 fresh hot wings with every order. All we ask is that you finish the wings from your last plate first. All chicken wings are to be consumed on the premesis and we do not permit take-away. Our last order for wings will be 15-minutes before the session ends.
Can I bring a friend?
Chicken wings are always better with company, so the more the merrier but please do buy each member of your party a ticket. To keep our space available for chicken wing lovers we will only permit ticket holders to be seated at tables.
What wings are available?
We currently have a spicy Buffalo wing (the traditional pepper sauce base) and sticky Barbeque Sauce. You can mix and match as much as you like throughout the evening. The wings will be a mixture of drumettes and flats on each platter.
Do I have to reserve a table?
We have only offered a limited number of tickets so the chances are that you will not need to reserve a table. However, if you would like to make sure your party is seated all together then we recomend booking a table - just give our friendly team a call on 01293 525523.