Bounce Back Digital Series: How to Use Canva to Create E-Books & Flyers
Digital Marketing Course: How to Use Canva to Create E-Books & Flyers
About this event
Digital Marketing Course: How to Use Canva to Create E-Books & Flyers
A chance to develop simple and effective marketing materials that can build your online presence. We will look at Canva and other platforms for templates, graphics, logos and text based materials that will get you started on your DIY marketing journey. The session will inspire you to build more content and develop that professional look.
Trainer Profile
Becky Craven: Becky from Cosmic will be leading this workshop. Becky is a professional creative marketer with a background in specialist in creative industries, leisure and hospitality marketing. Combining her marketing and photography expertise, her passion is to support businesses to create high-impact visual content that sets local businesses out from the crowd. She loves to share her knowledge of everything digital from basics such as account set up and posting through to marketing strategies and campaigns.
For many years Becky has lectured at prestigious Universities developing students creative and visual communication skills, running programmes on digital photography, editing and marketing strategy. Outside Cosmic Becky works as a professional commercial photographer working with hospitality, architects and tourism industry.
________________________________________________________________________________
About Bounce Back Digital
Bounce Back Digital is a free programme of webinars and short courses for small businesses to help trading during Covid-19.
With more businesses moving online, learn about collaboration tools and channels to reach your customers. Learn how to set up your own e-commerce website and how to use Worldpay, Stripe and other payment gateways. Understand how to make the best use out of digital photography and video for selling products , or skill-up on how to keep your business secure online.
Running across June and July 2020, the Digital Skills Partnership is proud to introduce experts from across the region who will host informative 'subject matter introductions' and run over 20 follow-on courses aimed at helping small businesses mitigate the impact of Covid-19.
This is a free programme funded by the Department for Digital, Culture, Media and Sport delivered by the Heart of the South West LEP Digital Skills Partnership for the Growth Hub.
View the full Bounce Back Digital webinar and course list here: Bounce Back Digital Course Series
____________________________________________________________________________________________________
Conditions and Eligibility
Participation is limited to the first 100 registrations for webinars and 15 registrations for each course.
We expect these courses will be in high demand but want to keep the class sizes small to ensure maximum benefit to attendees. If you book onto a course that you subsequently are unable to attend, we ask that you cancel your booking to allow another business to access the place. Anyone booking onto a course, that they do not attend will result in all future bookings for the Bounce Back Digital programme being removed.
To be eligible, businesses must be in Devon, Plymouth, Somerset and Torbay and employ less than 250 people.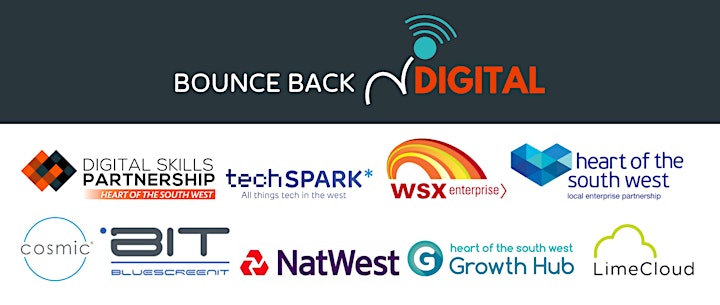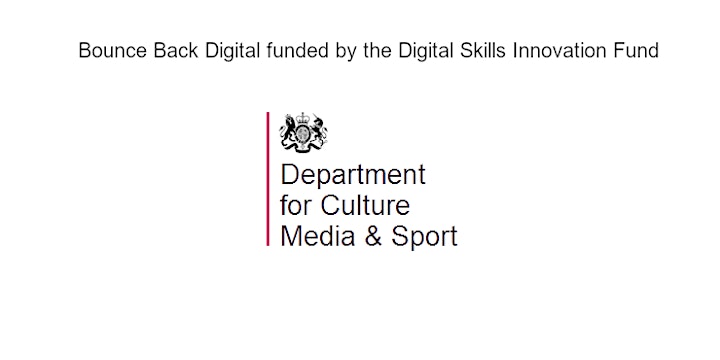 Organiser of Bounce Back Digital Series: How to Use Canva to Create E-Books & Flyers