Bounce Back Digital Series: Using QuickBooks Online
Digital Bookkeeping Course: Using QuickBooks Online
About this event
Digital Bookkeeping Course: Using QuickBooks Online
A how to session on using QuickBooks Online to manage your bookkeeping to work efficiently, understand your financials and make sure you are on top of your business in a world that is rapidly changing. LimeCloud will help you understand the features that enable you to manage your business day to day, along with tips on some of the integrations that will make your workflows easier. With cloud accounting enabling you to work with real time information from anywhere with an internet connection.
This is a 6 hour course spread over 3 dates (you need to attend each session to):
21st of September 2020 - 9:30 - 11:30
23rd of September 2020 - 9:30 - 11:30
25th of September 2020 - 9:30 - 11:30
Webinar links for each course will be available to registered attendees.
Trainer Profile – Paula Byers, Founder & Director, LimeCloud
Paula is an experienced trainer with a proven track record of delivering training at a level students can understand – jargon is explained and the tech demystified. Courses are delivered with a practical application to business use case and with an empathy for the busy business owner who wants to leverage the tech to be more productive and automate the mundane.
LimeCloud deliver courses on a range of cloud technology for organisations such as Apple, Enterprise Nation and further & higher education colleges, as well as direct to businesses on a one-to-one or one-to-many basis. Course content includes standard or generic content through to bespoke training for upskill business owners and employees quickly.
As founder of LimeCloud, Paula has a deep understanding of integrating apps to build a business management suite of cloud tools that can effectively and efficiently manage a business. Passionate about increasing digital skills in the workplace and beyond, she has the ability to enthuse people into using tech to do the heavy lifting to give them more time to do more of what they love.
__________________________________________________________________________________
About Bounce Back Digital
Bounce Back Digital is a free programme of webinars and short courses for small businesses to help trading during Covid-19.
With more businesses moving online, learn about collaboration tools and channels to reach your customers. Learn how to set up your own e-commerce website and how to use Worldpay, Stripe and other payment gateways. Understand how to make the best use out of digital photography and video for selling products , or skill-up on how to keep your business secure online.
Running across June and July 2020, the Digital Skills Partnership is proud to introduce experts from across the region who will host informative 'subject matter introductions' and run over 20 follow-on courses aimed at helping small businesses mitigate the impact of Covid-19.
This is a free programme funded by the Department for Digital, Culture, Media and Sport delivered by the Heart of the South West LEP Digital Skills Partnership for the Growth Hub.
View the full Bounce Back Digital webinar and course list here: Bounce Back Digital Course Series
____________________________________________________________________________________________________
Conditions and Eligibility
Participation is limited to the first 100 registrations for webinars and 15 registrations for each course.
We expect these courses will be in high demand but want to keep the class sizes small to ensure maximum benefit to attendees. If you book onto a course that you subsequently are unable to attend, we ask that you cancel your booking to allow another business to access the place. Anyone booking onto a course, that they do not attend will result in all future bookings for the Bounce Back Digital programme being removed.
To be eligible, businesses must be in Devon, Plymouth, Somerset and Torbay and employ less than 250 people.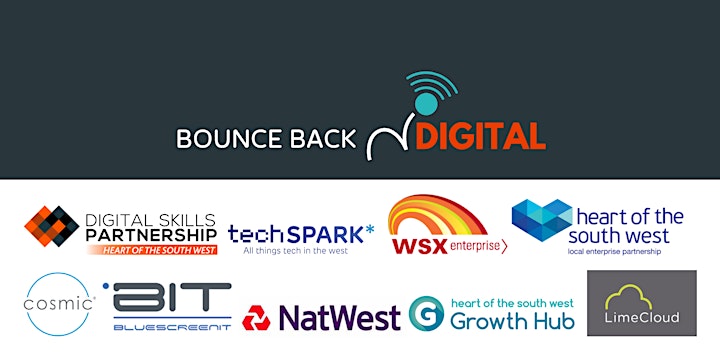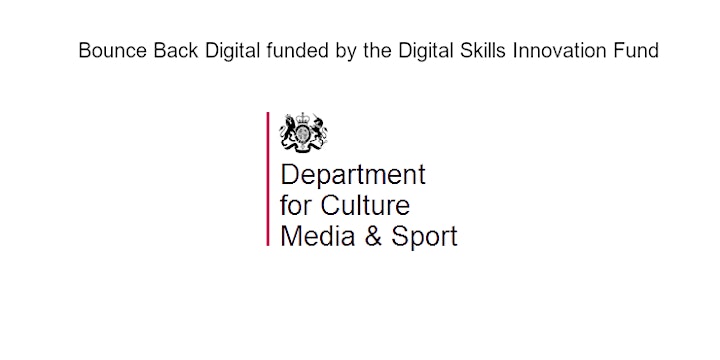 Organiser of Bounce Back Digital Series: Using QuickBooks Online