Join Patrick Regan OBE for a relaxed, honest, chat show style evening where he will be exploring themes from his new book.
About this event
Bouncing Forwards Tour is an evening of live music and talks that seek to create a relaxed, honest evening where Patrick Regan OBE will be exploring themes from his new book 'Bouncing Forwards' including resilience, mental wellbeing and thriving through life's challenges.
Come and be part of the conversation.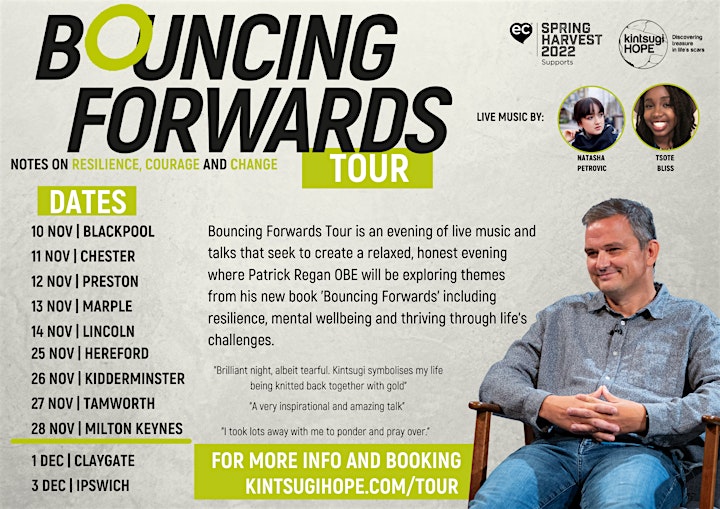 Other Info:
There will be an opportunity to purchase Kintsugi Hope Merchandise and Patrick's Books. We will be accepting cash and card payments.
Covid Guidelines:
All venues of the tour are Covid-Secure and will be following the latest government guidelines.
You will not be able to attend unless you have pre-booked your ticket.
Social distancing will be in place.
If you need diabled parking please contact admin@kintsugihope.com
Organiser of Bouncing Forwards Tour | Hereford
Launched in February 2018, Kintsugi Hope exists to provide safe and supportive spaces for people suffering with mental and emotional health challenges.  
Kintsugi is the Japanese art of repairing broken pottery with seams of gold.  When the brokenness is repaired, the object becomes more beautiful and unique than it was before.  Instead of hiding the scars, it makes a feature of them.  
www.kintsugihope.com