We are asking all attendees to book a ticket in advance of the Boundary Songs private view at Cross Lane Projects.
About this event
FREE booking essential ...
Maximum 6 tickets per person
At Cross Lane Projects the safety of visitors and staff is the highest priority. There will be changes in place so that you can enjoy the gallery safely in a relaxed atmosphere. You can read about the changes here.
We are asking all visitors to the Private View to book a free timed ticket online in advance of their visit. Entry will be between 6-8pm. You may have to join a small queue as we will can only permit a certain number at one time. But we will be doing everything we can to ensure this is as short a time as possible. This will help us manage the number of people visiting at any one time, and ensure everyone can keep a safe distance.
When you book in advance, we will ask for contact details of the person making the booking. We will only share them with NHS Test and Trace if asked, in the event of a fellow visitor testing positive for coronavirus.
Arriving at Cross Lane Projects
A member of staff will welcome you. You do not need to print your tickets, you can present these on your mobile phone or give your name.
For any visitors who arrive without a ticket you can still visit the exhibition, but will be asked to leave contact details and to queue until numbers are safe for you to enter.
Please remember, stay at home if you're feeling unwell, or have been in contact with someone who has coronavirus, and follow NHS coronavirus guidelines.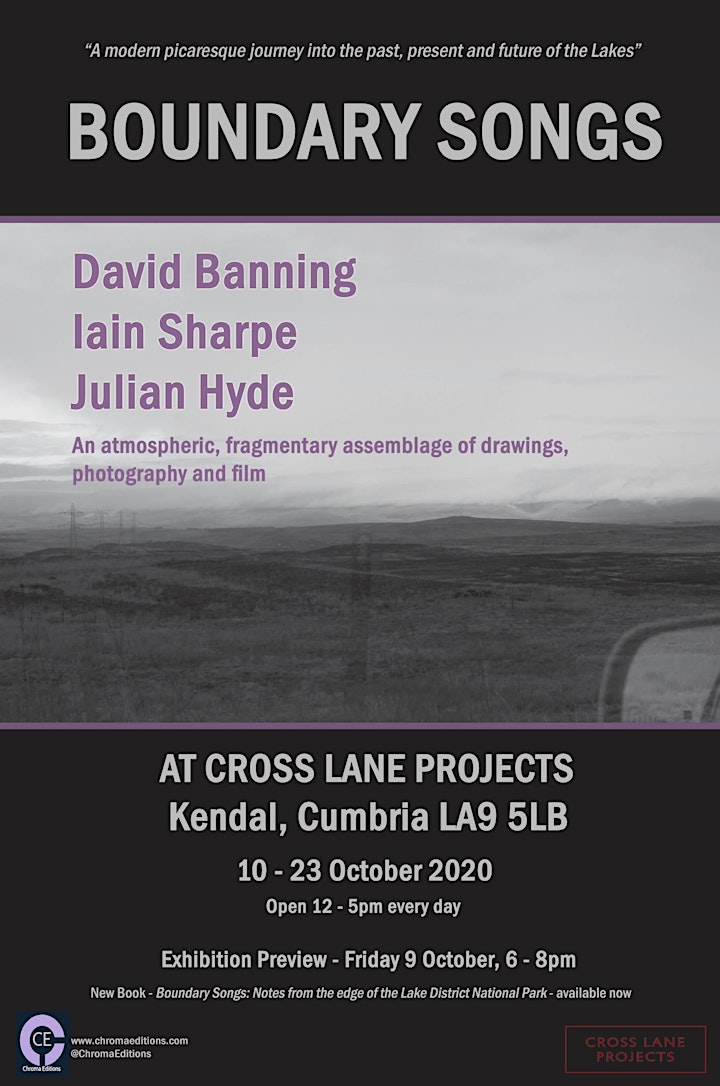 Chroma Editions are delighted to present a collaborative show by David Banning, Iain Sharpe and Julian Hyde.
The exhibition is the companion piece to a new book, Boundary Songs: Notes from the edge of the Lake District National Park. It brings together a fragmentary assemblage of images, text and film that show a landscape consumed by ghosts of nostalgia. The work typifies a contemporary re-telling of the journey made around the fringes of England's largest national park. With a shared interest in the disregarded borders between urban and rural, a selection of beautifully studied pencil and pen drawings based on the author's photographs are combined with hypnotic films of the coastal edges and a flotilla of found fragments. The softness of the images interrupt calls for much-needed transparency and reform on key issues including house prices, economic inequality and social change.