Event Information
Location
Beckenham Junction Railway Station
Station Approach
Beckenham
BR3 1HY
United Kingdom
Bowie's Beckenham Oddity presents... Beckenham's Original David Bowie Musical Walking Tour! Two David Bowie events rolled into one!
About this event
Virtual David Bowie Tours:
David Bowie's Soho - A Virtual Musical Walking Tour
David Bowie's Beckenham - A Virtual Musical Walking Tour
David Bowie's Brixton - A Virtual Muscial Walking Tour
Beckenham's Original David Bowie Musical Walking Tour
Join Bowie Tour London's Nick Stephenson for a unique musical walking tour of Beckenham, an area rich with David Bowie history where he wrote many of his greatest songs! Visit the site of Haddon Hall where rock 'n' roll history was made and learn of how David Bowie dreamed up his famous Ziggy Stardust persona. Get a unique insight into the venue where he rehearsed for his classic Hunky Dory album and visit the original site of the famous Beckenham Arts Lab.
This tour will feature classic David Bowie songs performed en route plus anecdotes and stories from his life.
The tour will end at the famous Bandstand where Bowie put on a free festival in the summer of 1969. Your ticket will also give you entry to this year's annual Bowie's Beckenham Oddity festival which will be celebrating it's return after almost two years since the last event. Fans and music lovers worldwide are invited to come together on Saturday 14th August 2021 for the fifth "Bowie's Beckenham Oddity" which kicks off at noon (gates open at 11.45am) This years event will also see the the return of some of the Growth Festival folk, including Keith Christmas & Bill Liesegang.
Landmark areas of the walking tour will include:
- Site of Haddon Hall – Discover the location of Haddon Hall and the story of David Bowie and the Spider's lives at a supposedly haunted Victorian Mansion
- Beckenham Place Park – Visit the beautiful park where a famous David Bowie photo shoot took place in the summer of 1969
- Bowie's first Beckenham home – Hear of what happened when Bowie first moved to Foxgrove road Beckenham – an experience that would change his life forever.
- Beckenham Arts Lab at the Three Tuns – Discover what happened when Bowie and few close friends started up a centre for the creative arts in 1969.
- Beckenham Bandstand – See the legendary bandstand where Bowie helped organise a free festival in the summer of 1969 and learn about it's fascinating legacy.
.
Sing along with Nick Stephenson to David Bowie's classic songs, performed live throughout the tour, including: Oh! You Pretty Things, Cracked Actor, All The Young Dudes, Rock 'N' Roll Suicide and many others.
The tour group will meet at Beckenham Junction Train Station at 9.50am. The tour will commence outside Beckenham Junction railway station at 10:00am
Your tour guide will be holding a guitar! We recommend you arrive at least 10 minutes early to London Victoria.
PLEASE NOTE: It is advised you book your tour at least a week in advance. Tours will only run with a minimum of 5 people. You will be given 72 hrs notice if ticket sales are low for the tour you have booked onto. If sales increase to 5 people or over, the tour will go ahead and you will be notified accordingly. Full refunds will be given at 24 hrs notice if no further tickets are sold for your tour.
REFUND POLICY: We are not able to offer refunds if you miss the tour. We will, however, do our best to offer you the chance to join another tour at a different time or date, but be aware that this is done at our discretion. It is your responsibility to arrive at the tour meeting point at the time and date selected at the time of booking.
Are you interested in joining any of our other In-person David Bowie Musical Walking Tours?
In-person Tours
For our Brixton Tour please visit London's Original David Bowie Musical Walking Tour for more details.
For our Soho Tour please visit Soho's Original David Bowie Musical Walking Tour for more details.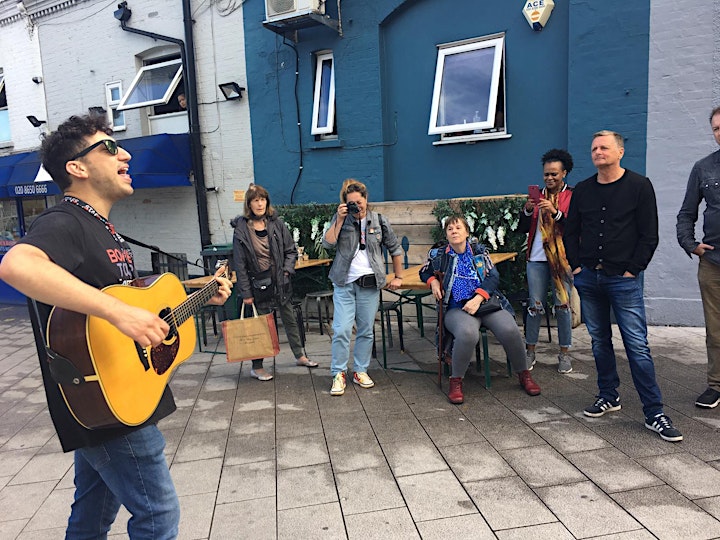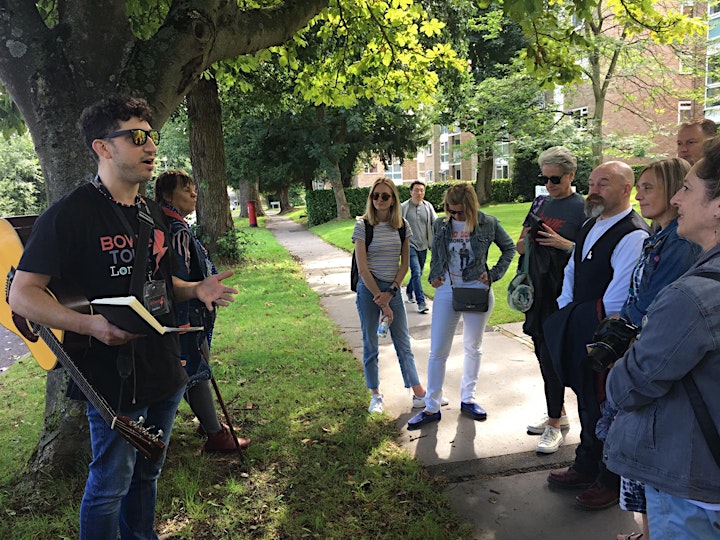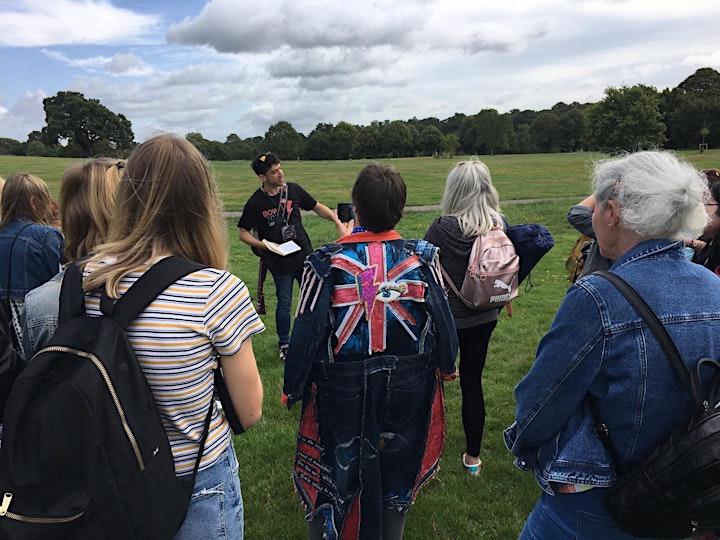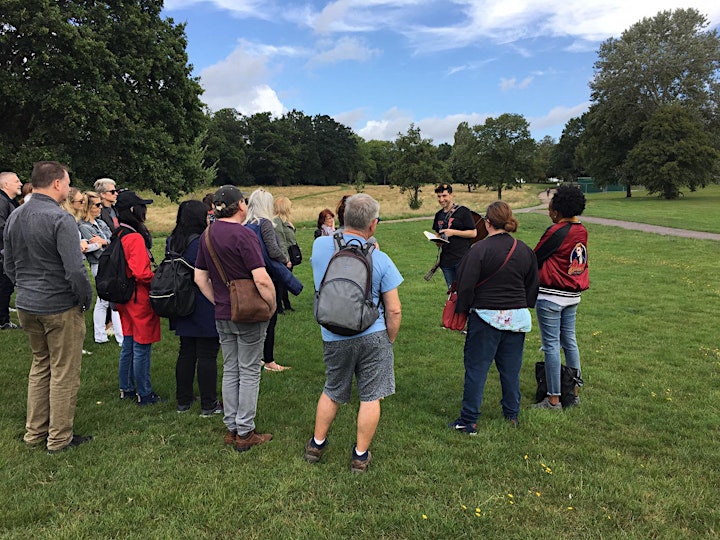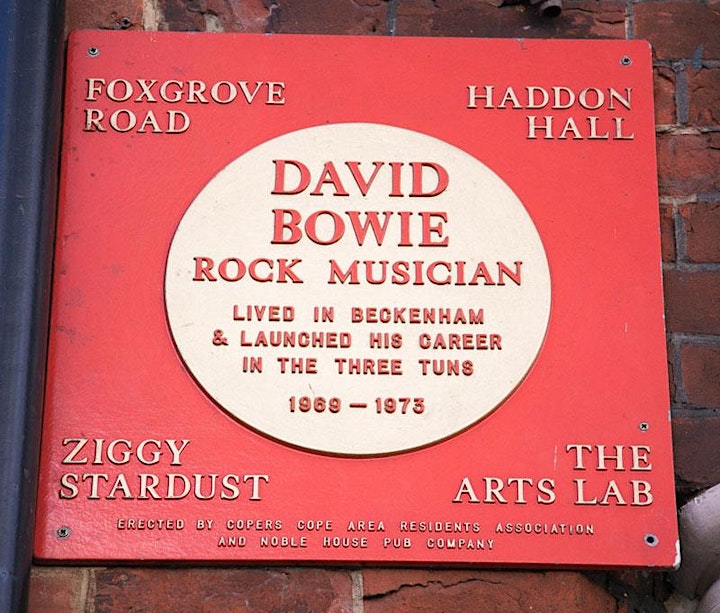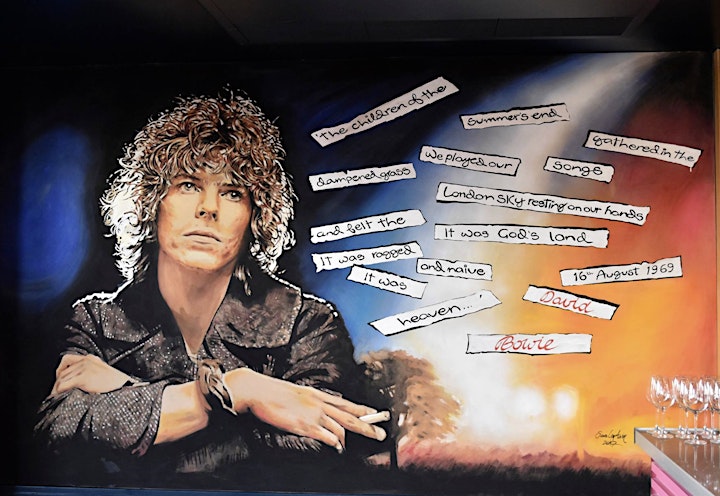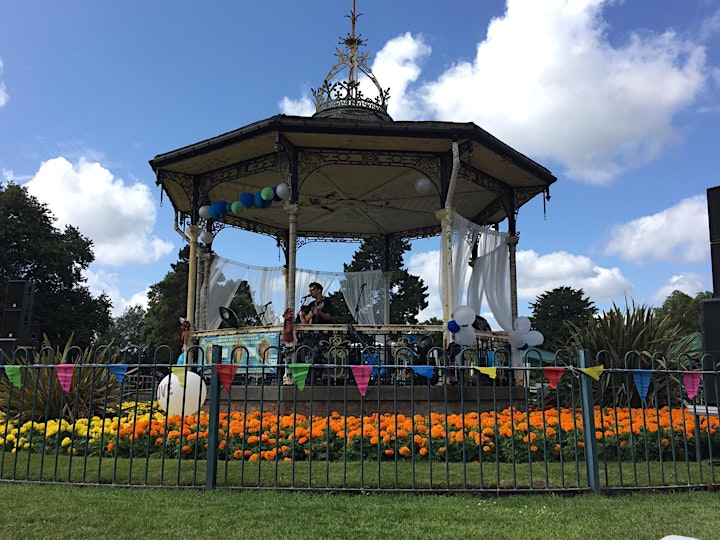 Date and time
Location
Beckenham Junction Railway Station
Station Approach
Beckenham
BR3 1HY
United Kingdom
Refund policy