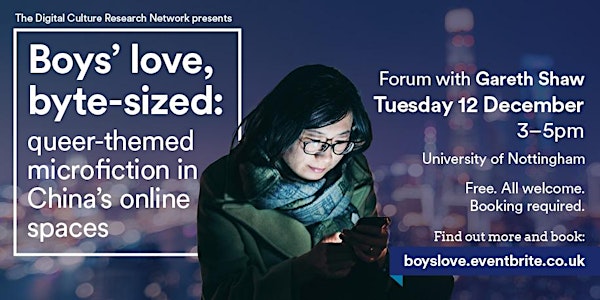 Boys' Love, Byte-sized: Queer-themed Microfiction in China's Online Spaces
Location
Sir Clive Granger Building, A48
University of Nottingham
Nottingham
NG7 2RD
United Kingdom
Description
Digital Culture Research Network presents a Forum with Gareth Shaw
From its early origins in 1960s Japan, Boy's Love (BL) fiction—female-oriented tales of idealised romances between two males—has spread outwards through Asia to become a global subcultural phenomenon. As technology has evolved, so too have the ways for literature fans to access, consume and share their stories.
This paper forms part of a larger in-depth, qualitative investigation into queer-themed microfiction within the realm of Chinese-language cyberspace, which seeks to establish links between the linguistic/stylistic/discursive features of the genre and its socio-cultural context. Through a combination of Critical Discourse Analysis of selected works of microfiction and applied thematic analysis of interviews conducted with producers and consumers in Mainland China, this research project focuses on the discursive aspects revealed by the microfiction collection, offering an insight into how such stories construct socially normative rituals like marriage function within the world of microfiction, and on how these intersect with intergenerational power relationships.
Commenting on how such instances of microfiction contribute to the visibility of same-sex intimacies within a Chinese cultural framework, this project discovers that, despite the increased opportunity for representation within such online media, there is an underlying tension within the production/consumption communities regarding issues of identity and desire.
Finally, this presentation explores female motivation behind these queer-themed stories, suggesting that such narratives represent the appropriation of 'social deviance' as projection of an idealized 'pure love', which operate as a form of literary escapism, freeing female producers/consumers from historical patriarchal associations of women as the weaker sex through the fantasy of a love between equals.
Gareth Shaw is a graduand of the University of Nottingham, having completed his PhD at the School of Sociology and Social Policy in July 2017. His research concerns the production and distribution of 'micro' fiction in the digital age, identity-based online communities, and the representation of same-sex relationships in Chinese digital media. His published work has addressed new media's impact on China's burgeoning environmental health movements, and queer documentary making and distribution within China's online spaces.

The Digital Culture Research Network, based at the University of Nottingham, welcomes those interested in interrogating the significance of the digital, inquiring into how and if it mediates daily experience, power relations or symbolic, embodied and collective meaning making.
Enquiries via email to digitalculture@nottingham.ac.uk
For information on future events, subscribe to the DCRN Facebook page: https://www.facebook.com/groups/uondigital/