BPC Between Mind and Culture: Ordinary Differences Conference
Description
A one-day conference exploring the cultural and social implications on psychoanalytic psychotherapy and its future practices.
About the Conference
People from BME backgrounds often experience themselves as being on the receiving end of misconceptions and projections; reduced to theories that are more familiar to psychoanalysts and psychotherapists. This excludes the social contexts within which that experience takes place. On the other hand, focusing exclusively on social context runs the risk of reducing the phenomena to familiar 'isms' that exclude a psychological dimension.
This conference aims to understand how, as practitioners, we can expand our work in order to better provide therapeutic relief to a wider cohort of individuals as well as begin to address how the profession could engage in a more meaningful way with issues around cultural diversity.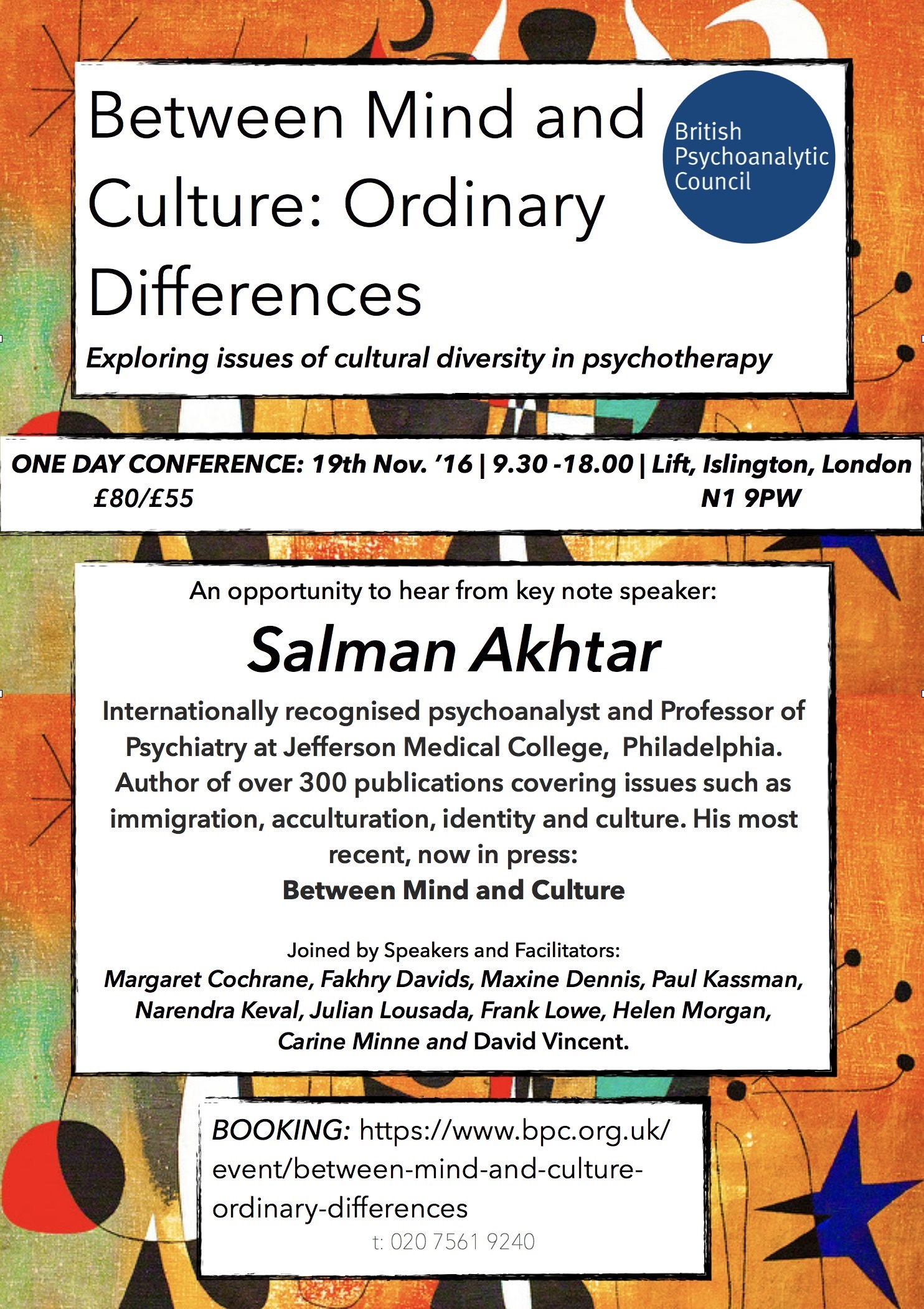 Programme
09.30 – 10.00 Registration
10.00 – 10.15 Opening Remarks – Maxine Dennis
10.15 – 11.30 Between Mind and Culture – Salman Akhtar / Discussant – Helen Morgan
11.30 – 12.00 Morning Break
12.00 – 13.15 Breakout Sessions:           
1. Identity and Culture – Fakhry Davids

2. Security and Freedom – Julian Lousada & Helen Morgan

3. Changing the Game – Paul Kassman & Carine Minne
13.15 – 14.15 Lunch Break
14.15 – 15.15 Thinking Space – Co-facilitated by Frank Lowe, Onel Brookes and Katie Argent
15.15 – 15.45 Afternoon Break
15.45 – 17.00 In the face of Unreason: Engaging with Racist states of Mind – Narendra Keval
17.00 – 17.15 Interval
17.15 – 18.00 Closing Discussion – Maxine Dennis
Details:
Identity and Culture: Fakhry Davids – COMING SOON
Security and Freedom: Julian Lousada & Helen Morgan – COMING SOON

Helen Morgan is a Fellow of the British Psychotherapy Foundation and is a training analyst and supervisor for the Jungian Analytic Association within the BPF. She works mainly in private practice as an analyst and also supervises in both the individual and the group setting. She has written a number of papers including several on working with racism within the clinical setting. She is currently the chair of the British Psychoanalytic Council.
Changing the Game: Paul Kassman & Carine Minne – COMING SOON

Dr Carine Minne is a Consultant Psychiatrist in Forensic Psychotherapy at the Portman Clinic (Tavistock & Portman NHS Foundation Trust) and Broadmoor Hospital (WLMHT). She is also a psychoanalyst with the British Psychoanalytical Society.
Paul Kassman has worked with offenders and young people in London as a youth worker, criminal justice practitioner and policymaker for over 25 years. Over the last 10 years Paul has focused exclusively on approaches to addressing the impact of gangs and gang culture in London.
 In the face of  Unreason: Engaging with Racist states of Mind: Narendra Keval
The abundance of spatial metaphors or imagery in political discourse that portrays building walls, fortresses, borders or fences in tumultuous times is no accident. In the face of anxieties and fears about diversity and difference, the racist imagination seeks out idealised spaces in the mind and society that offer tempting retreats in which loyalty towards notions of community, tribal group, belief system or an abstraction takes precedence over the capacity for reason and empathy. The tragic depiction of ethnic others in dehumanising terms can be used to politically justify expunging them as 'foreign bodies' or parasites feeding, robbing or depleting an idealised body politic; phantasies that are part of a larger narrative of an imaginary love lost, sense of betrayal, grievance and a wish for revenge in racism. Some of these themes will be explored by looking at the quality of thinking and the predicaments and challenges of engaging with racist states of mind when they emerge in the consulting room and on the wider canvas of contemporary culture.
Narendra Keval is an adult and adolescent psychotherapist and consultant clinical psychologist. He is a member of the Tavistock Society of Psychotherapists and a visiting lecturer at the Tavistock Clinic. He worked as Psychoanalytic Psychotherapist in the NHS with patients suffering from complex personality disorders. He is currently in full time private practice. His book 'Racist States of Mind: Understanding the Perversion of Curiosity and Concern was recently published by Karnac.
BPC Event Calender and Bookings:
https://www.bpc.org.uk/events-calendar/#event|between-mind-and-culture-ordinary-differences|1