Launching SEE MY WORLD; a festival of Pan-african experiences with an In conversation with Akala.
About this Event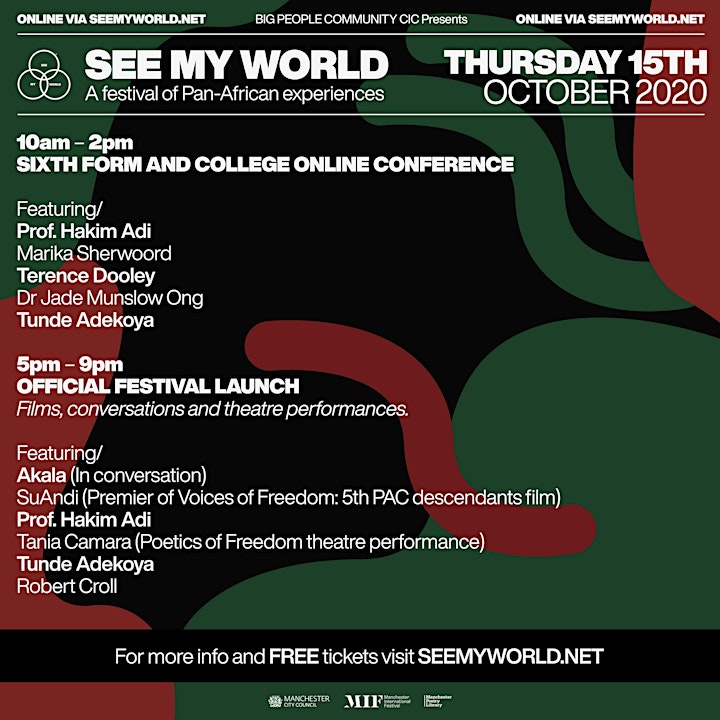 Big People Community CIC presents 'See My World' a series of multicultural, multi-lingual, intergenerational inclusive events, reflecting the aspirations of Manchester's Pan-African community and that of the region.
This festival of Pan-African themed events and activities in Manchester is an effort to commemorate the Pan-African Congress held in Manchester 75 years ago, with the long term aim to inspire the creation of a movement to promote and encourage self-determination and self-realisation of the UK's Caribbean and African diaspora.
To launch the festival, we will be joined by Akala as part of an In conversation, exploring the roots of Pan-Africanism, the Pan-African Congress and ideologies that can promote self-realisation and self-determination for Pan-Africans.
Hosted by Tunde Adekoya & Robert Croll
This will be followed by a Q&A.
BSL Interpretation will be available at this event.
About AKALA:
AKALA is a BAFTA and MOBO award-winning hip-hop artist, writer and social entrepreneur, as well as the co-founder of The Hip Hop Shakespeare Company.
With an extensive global touring history, Akala has appeared at numerous festivals both in the UK and internationally, and has led innovative projects in the arts, education and music across South East Asia, Africa, India, Australia and New Zealand. Akala has also appeared on NPR, PBS, MTV, BET, Channel4, ITV, Sky Arts and the BBC promoting his music, poetry and speaking on wide-ranging subjects from music, race, youth engagement, British/African-Caribbean culture and the arts, with numerous online lectures, podcasts and performances that have reached millions via YouTube/Spotify. More recently known for his compelling lectures and journalism - he has written for The Guardian, Huffington Post, GQ and the Independent and spoken for the Oxford Union and TEDx
About Big People Community CIC:
Big People Community CIC is a network of creative and social entrepreneurial changemakers, developing communities of excellence. We enable social innovation, encourage creativity, and address inequality by empowering marginalised people,
developing community leaders, and strengthening community assets and local networks using education and creativity.
This event is curated by Big People Community CIC and supported by Manchester Metropolitan University.