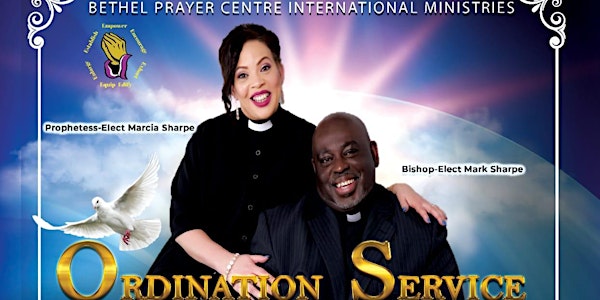 BPCIM Ordination Service (July 11th) - Day 2
Location
Fairchildes Primary School
Fairchildes Avenue
New Addington
CR0 0AH
United Kingdom
Sales Have Ended
Registrations are closed
Thank you for registering your place for BPCIM Sunday Service. Please complete the BPCIM online Track n' Trace Form https://docs.google.com/forms/d/e/1FAIpQLScNDYjcwns2xjI3gveDLm5UDb8br-AwjL5S90xEE76-jMrbmA/viewform?usp=sf_link
The Thanksgiving Service of BPCIM, Bishop-Elect Mark Sharpe and Prophetess-Elect Marcia Sharpe (FREE EVENT)
About this event
Please also complete the mandatory NHS Track & Trace form. Click Here!
You are invited to join BPCIM in celebrating over 18 years of ministry and the elevation of the set man and woman of God Bishop-Elect Sharpe and Prophetess-Elect Marcia Sharpe at their ordination. Dates: 10th-11th July 2021.
AGENDA
DAY 2
9.30am - 9.45am (Registration)
10.00 - 14.00 Main Service (In-person )
14.00 - 16.00 Refreshments
Registration : ( This includes a safety briefing, temperature checks, registration and consent forms, etc.) You will not be allowed entry without completing registration.
All social distancing & PPE measures have been put in place in accordance with the government guidelines for places of worship (See details below)
For further information contact: 07794210537
For further guidance visit: https://www.gov.uk/government/publications/covid-19-guidance-for-the-safe-use-of-places-of-worship-during-the-pandemic-from-4-july/covid-19-guidance-for-the-safe-use-of-places-of-worship-from-2-december
~ BPCIM LEADERSHIP